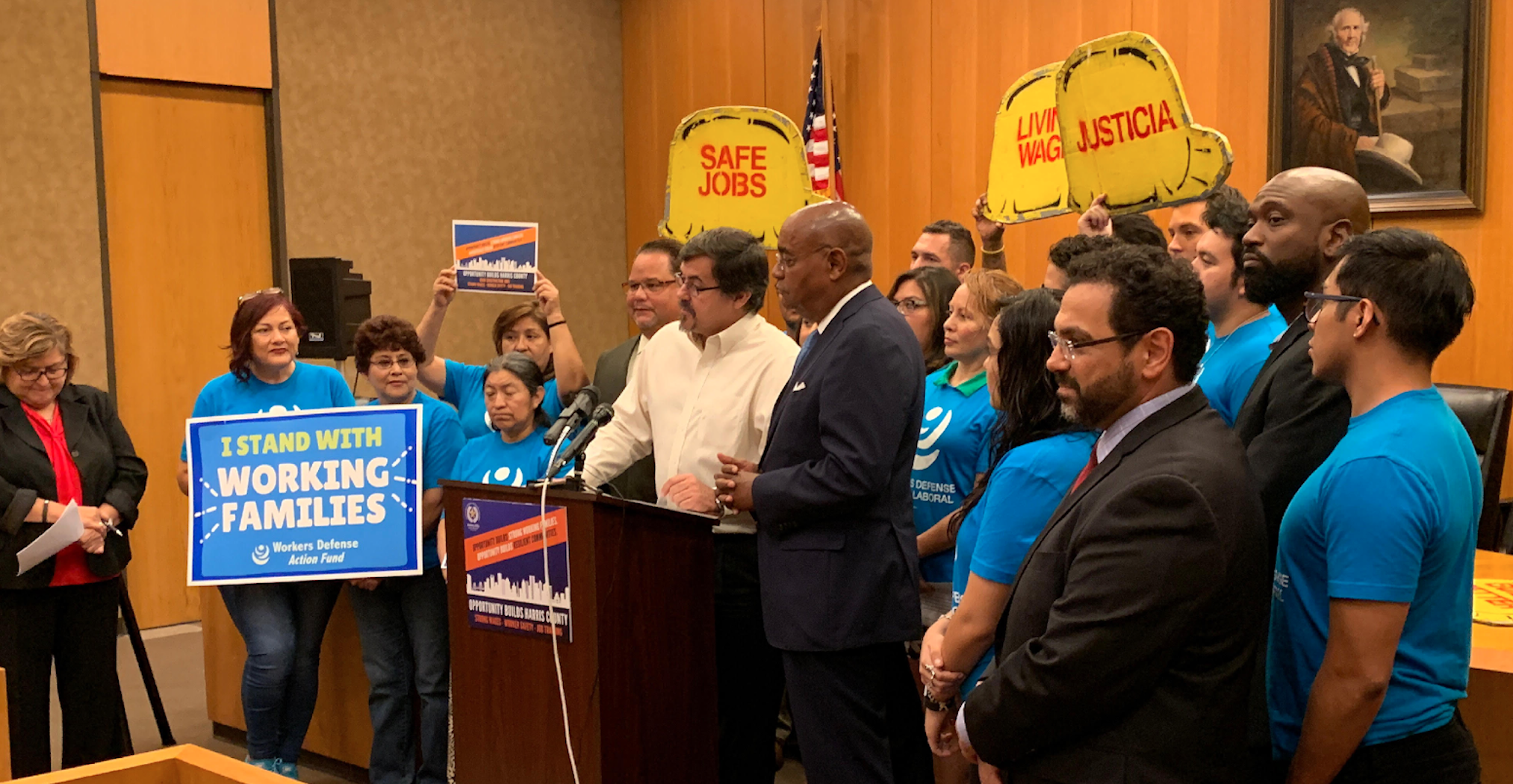 Labor and community organizers with the Build Houston Better campaign, launched after Hurricane Harvey, and  Houston Mayor Sylvester Turner announce a major legislative win to improve worker protection, wages and training access. Photo credit: Worker's Defense Project.
Houston often doesn't receive funder attention until major climate change-fueled disasters: Hurricane Harvey in 2017, the Deer Park Chemical Fires in 2019, the 2020 Texas deep freeze, even the persistent COVID-19 crises in a quickly-reopened state. Hopes, though, turn to Houston every few years when national elections roll around. Many progressive and liberal forces see the region as emblematic of the state's majority-minority future which helps inch statewide numbers from red to blue. On the flip side, business elites peddle a story of a "miracle" economy that has attracted big technology and energy companies, and where billionaires build new homes and developers push through massive residential projects – mostly to openly spite "regulated" states.
Though coming from different value systems, both sets of narratives erase a critical element of Houston's rapidly-changing national and global role: How do regional economies expand and national elections shift? Who cleans up neighborhood streets after a hurricane, clears out toxic waste, or bails out flood waters? How do whole new subdivisions or global tech headquarters really sprout up?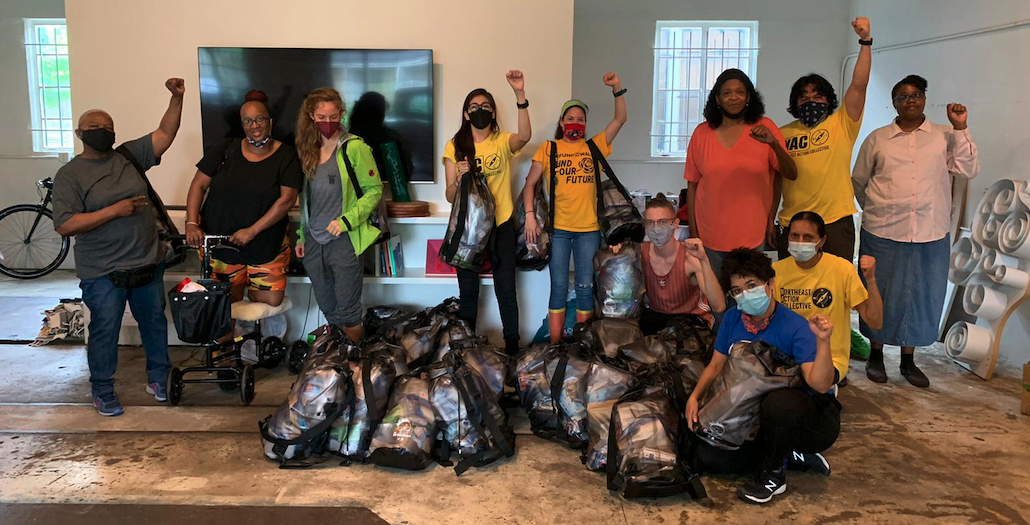 West Street Recovery created disaster preparedness bags to aid in the upcoming hurricane season, due to fears of blackouts during heat waves and the ongoing pandemic. Credit: WSR Staff
Our latest NFG/FJE Building Power Place Report, Houston: Breaking the Cycles of Disaster, Displacement and Disenfranchisement, flips the view to working people and neighbors on the ground in Houston, where a different story emerges. Historically-rooted Black, Indigenous, and Latinx, as well as more recent Asian and Pacific Islander migrants and other workers whose labor and energy is being exploited to sustain a global-scale energy economy, build thousands of homes, clean up disaster where the state has failed, and rally voters for national parties, are making their voice heard in new ways. Our report attempts to document just some of these movements  - and the ways in which they strategically and comprehensively take on the unequal ways labor, land and corporate power (and thus the economy) operate in Houston with national and  global implications.
Houston communities are organizing every day in the face of disaster, displacement, and disinvestment. This report offers detailed recommendations on how local, regional, and national funders must play a role and learn from Houston's expanding movement infrastructure — and then fund these efforts to propel regional, state, and national change. As one organizer boldly shared in our accompanying strategy session (see below!), "We live in a state that doesn't care that people died in a freeze, that it doesn't care that vulnerable people died in a flood. Our people are powerful because we've survived the intentional genocide and extermination that has happened in the state for many generations. And we're still here and we're going to continue to be here." The question is: will funders be there also, standing with and supporting community and worker-led organizations fully, as true partners in lasting transformation?


And if you missed out Building Power in Place Report Preview & Strategy Session, A New Social Contract for Houston: Expanding Labor and Civic Power, from Construction to Climate, you can view the recording below! Co-hosted by Ethan Frey of the Ford Foundation and Kelli King-Jackson of The Simmons Foundation, panelists featured three powerful coalitions redefining Houston: Chrishelle Palay, Houston Organizing Movement towards Equity (H.O.M.E.) Coalition, Frances Valdez, Houston in Action, and Hany Khalil, Texas Gulf Coast Area Labor Federation.
About Building Power in Place:
NFG's Building Power in Place project emerges from a recognition that there is no "one size fits all" solution to addressing low-wage worker issues and economic inequality in the US, especially if we want to pay attention to race, gender, and climate. Primarily funded by the generous support of the Public Welfare Foundation, Building Power in Place (BPP) has three goals:
Identify specific urban and rural communities with organizing, policy advocacy and other efforts regarding economic justice for low-wage workers and understand how conditions are shaped by place-based factors such as state preemption. Deepen knowledge of the ways in which organizations respond to geographically-specific conditions and the ways they tangibly shift power and the economic prospects for low wage workers.
Bridge donors, funders, and organizations engaged in related areas - including workforce development, community health and equity - regarding building power for workers. Share more information about worker-led strategies shifting precarious conditions and creating new visions of the economy in places that have not traditionally received significant funding for movement-building and grassroots organizing.
Build and strengthen relationships with local and regional funders in the identified communities through larger events on issues facing marginalized workers, and facilitate a deeper relationship to national funders, community groups, and NFG.
We invite you to read the report, share it with colleagues, and join us in strengthening genuine partnerships and deepening resources for this critical organizing ecosystem in Houston.