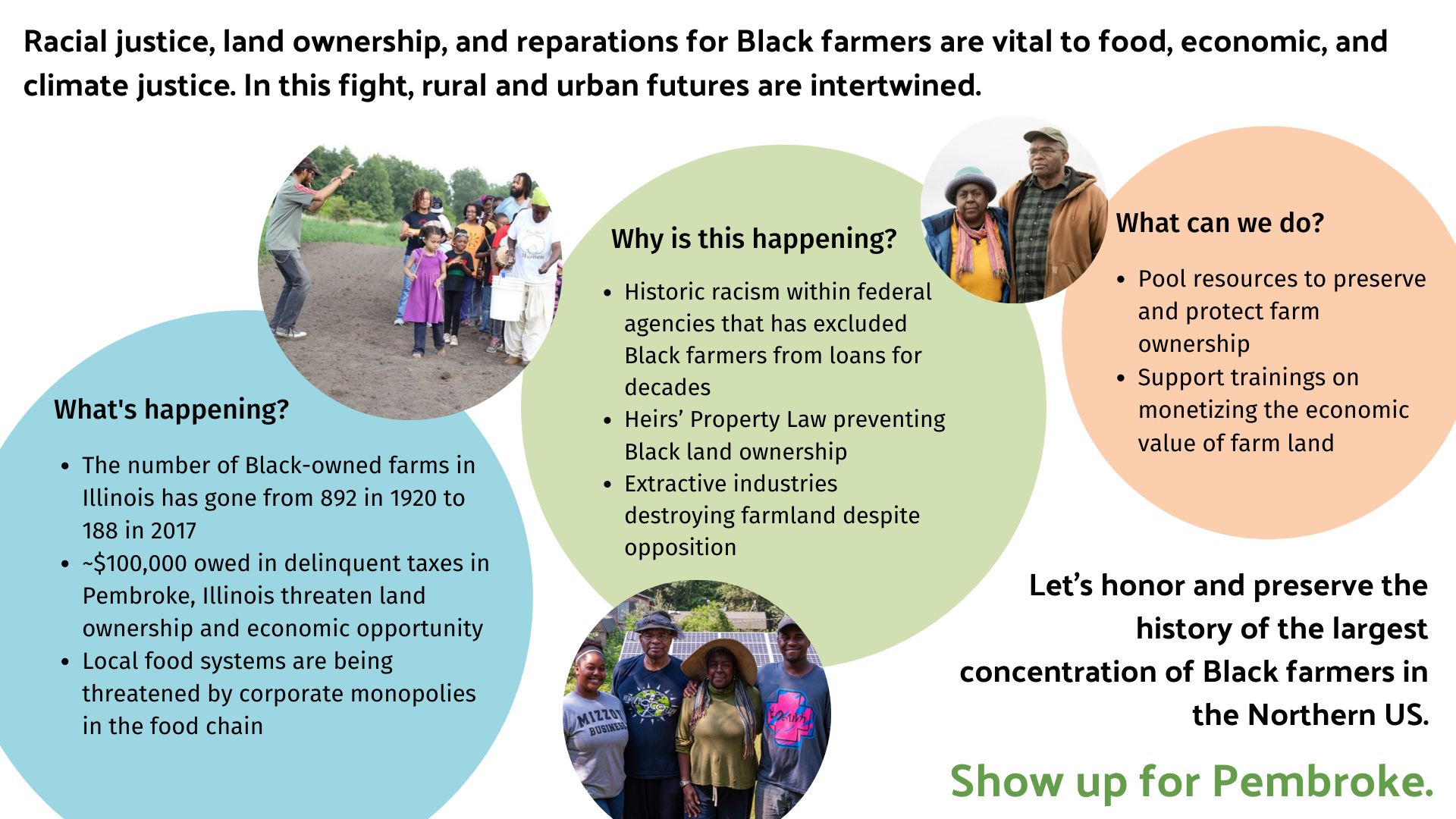 Photos courtesy of Black Oaks Center.
Neighborhood Funders Group and Wieboldt Foundation invite you to support racial justice and reparations for Black farmers who are crucial to our fight for just food systems, economic justice, and climate justice.
We have launched a campaign to support the farmers of Pembroke Township, Illinois and Black Oaks Center, in an effort to preserve and protect their land ownership and economic opportunity that are threatened by decades of systemic racism in food systems, practices within federal agencies, and land ownership laws.
What is happening?
In 1910, Black farmers owned more than 16 million acres of land and made up about 14% of farmers in the US. Today, Black farmers own less than 4.6 million acres and make up about 4% of farmers. This significant land loss is in part due to systemic racism in federal support to farmers, including historic racism in the USDA (most notably their discriminatory lending and aid practices), the Heirs' Property Law which has served as a legal pathway to take land away from Black families, corporate monopolies in the food chain, and racist tax laws. Despite more recent shifts and efforts by the USDA and other federal agencies, these structural inequities have compounded for the farmers of Pembroke, resulting in loss of farmland ownership and economic opportunity, along with the ability to support an equitable food system for the region.
Due to these compounding injustices, approximately $100,000 is currently owed in delinquent land taxes on Black farm land in Pembroke Township, Illinois, which has the largest concentration of Black farmers in the Northern US. What does this mean for a Black family farming in Pembroke for generations? For as little as $2,000 in delinquent taxes, a family can experience the loss of more than a dozen acres of farmland that has the potential to yield $500,000 per crop cycle.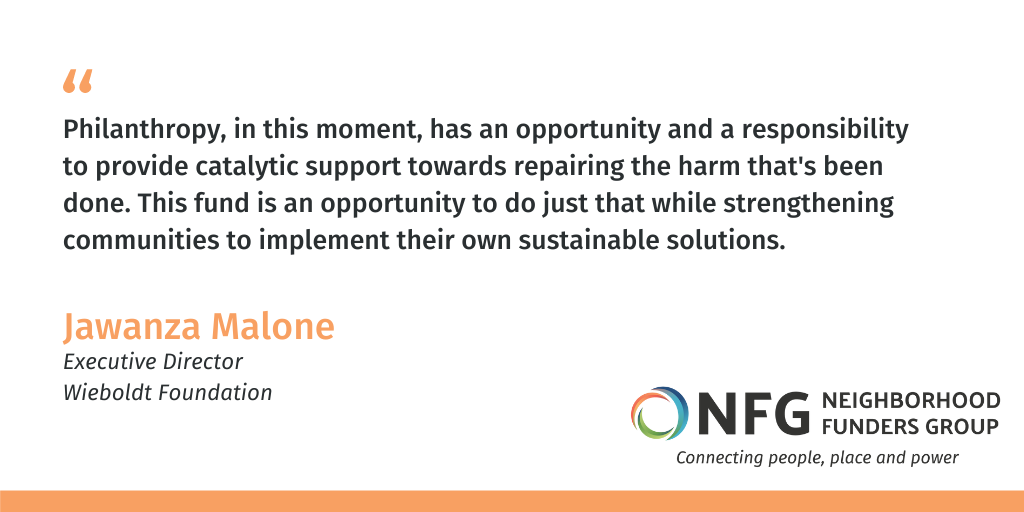 A Solution for Justice
In October 2021, NFG and Wieboldt Foundation each granted $10,000 to Black Oaks Center in support of a campaign to ensure Pembroke farmers are able to maintain ownership of their farmlands.
We invite you to contribute to this effort, with a goal of raising an initial $150,000.
Black Oaks Center, based in Pembroke Township, Illinois, has a deep history of supporting and organizing in the community. Through this campaign, Black Oaks Center is able to receive funding which will be coordinated to relieve farmers' back taxes and other financial land ownership burdens. Black Oaks Center will also:
Protect against future forfeiture of the land by offering farm lease agreements to help farmers and their families monetize their land. Farmers will no longer experience the devastation of losing 20 acres of land over a mere $2,000 of back taxes - land that would then likely transfer ownership to developers or for extractive use.
Generate economic opportunity for these farmers. With a single acre, there are a plethora of options available to them (e.g. seed production, chickens, vine fruits). As an example, one acre of blueberries can yield $32,000 per year.
Foster equitable food systems by supporting a resilient food system that has multiple small local suppliers, high biological diversity, high diversity of products, and sufficient redundancy.
Continue historic land stewardship. The farmers in Pembroke Township are stewards of the Kankakee Lands, one of the most prized ecosystems in Illinois and home to the endangered dwarfed black oaks. These farmers are honored to carry forward this tradition of stewardship, which dates back to the people indigenous to this land, the Potawatomi.
An Invitation and Call to Action for Funders
Step 1:
Immediate Support to Black Farmers in Pembroke, Illinois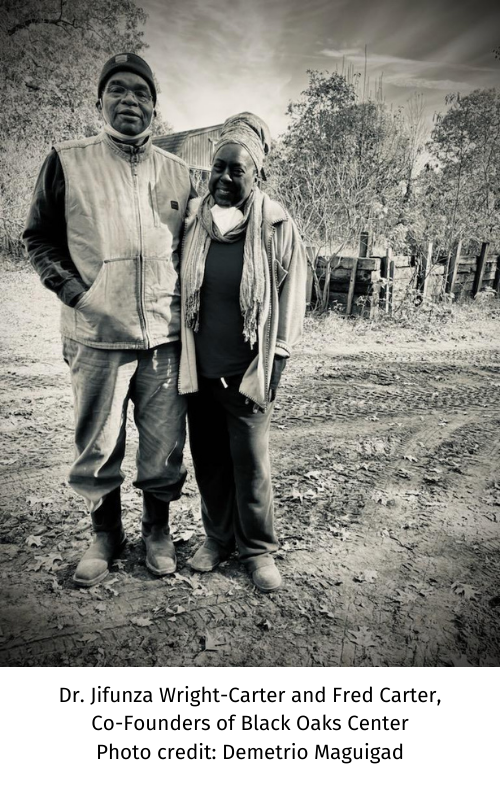 NFG and Wieboldt Foundation are seeking to raise $150,000 to support the immediate land loss amongst Pembroke farmers. Black Oaks Center will provide farm lease agreements to prevent future land forfeiture. We invite you to contribute to a pool of contributions that NFG will administer and disburse to Black Oaks Center.
Step 2:
Deepening Support and Learning for Continued Community Power Building
In early 2022, NFG will be offering programming for funders to learn more and engage in further action. Stay tuned for opportunities to participate in a funder strategy session as well as programming to connect with and learn from Pembroke Township farmers around the impacts of structural racism on their land sovereignty and economic opportunity, and the need for philanthropic resources to support organizing and power building within and beyond this community.
Racial justice and reparations for Black farmers are crucial to our fight for just food systems, economic justice, and climate justice. Ensuring the land ownership of Black farmers helps all communities - rural and urban - to thrive.
Please contact Lindsay Ryder to make a contribution or learn more. 
We hope you will join us.