Last week, NFG's Amplify Fund and Funders for a Just Economy hosted a virtual learning visit in Nashville to showcase how Stand Up Nashville and The Equity Alliance are building power in their city for all residents. These Black women-led organizations have laid the foundation for recent movements supporting mutual aid and just recovery from disasters, community development, and economic justice (watch this video to learn more about these powerful groups).
We heard from Tequila Johnson and Charlane Oliver, Co-Founders and Co-Executive Directors at The Equity Alliance, and Odessa Kelly, Executive Director at Stand Up Nashville, who described how the incredible organizing and power built by Black communities in Nashville is often overshadowed by more resourced, white-led groups that receive more philanthropic dollars and consequently have an outsized influence in the city.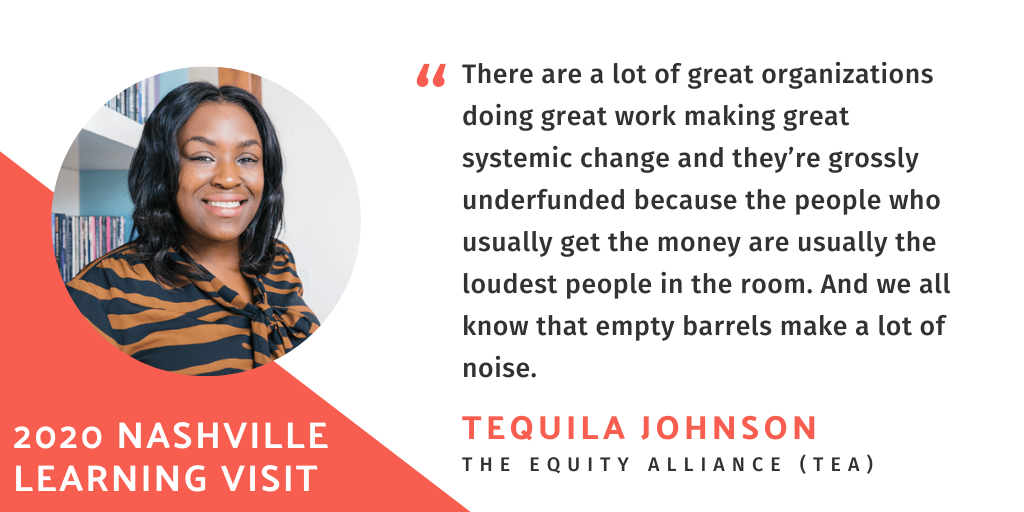 This imbalanced distribution of philanthropic resources is true in many communities across the US. Tequila, Charlane, and Odessa called on funders not to always give money to the loudest person in the room or the groups that make the biggest splash on social media. As Tequila said during the learning visit: empty barrels make a lot of noise but impacting systemic change requires philanthropy to dig deeper to understand and fund the less visible power building work led by Black, Indigenous, and people of color organizations.
This Nashville visit coincided with the news that there is no justice for Breonna Taylor and that the systems that killed her will not be held accountable. Black Lives Matter — today, tomorrow, and forever. And funders must be accountable to Black communities so that philanthropic resources aren't just funding more empty barrels to make noise — but taking risks that are worthy of the courage of our communities.
Philanthropy has a stake in ensuring that people can organize, build power, and transform their lives and communities. NFG urges you to fully resource work that centers the lives, safety, and success of Black, Indigenous, and people of color communities:
Be in conversation and community with NFG as you work to do better in your role as a funder.

Take action to dismantle the internalized racism, white supremacy, homophobia, and transphobia that exists in the philanthropic sector; check out NFG's Accountability and Philanthropy's Role convening plenary video for examples of how funders are doing this.

Learn how you can support divest/invest campaigns with Divest/Invest: From Criminalization to Thriving Communities, an online toolkit for grantmakers on how policing and criminalization impacts private and public funding for housing, healthcare, education, and other infrastructure necessary for safe communities.

Commit to doing better in support of and in solidarity with trans communities by signing onto Funders for LGBTQ Issues' Grantmakers United for Trans Communities Pledge (read more about NFG's commitment below).

Move more money to M4BL and Black-led groups like The Equity Alliance and Stand Up Nashville.

Use tools like JustFund to find groups to fund and reduce the burden on grantees.

And exercise your power and platform as a funder to be vocal about the actions you are taking to deepen your institutional and personal accountability to Black, Indigenous, and people of color communities and low-income communities.
In solidarity,
The NFG team