Neighborhood Funders Group's new theory of change has our organization working toward a world where philanthropic assets are liberated so that BIPOC and low-income communities have power to self-determine (read more about why this long-term outcome from our President, Adriana Rocha, in our January newsletter).
NFG's Funders for a Just Economy (FJE) program brings funders together that are committed to advancing the philanthropic conversation around economic justice and worker power. For FJE, we will get to this long-term vision for economic justice and worker power by building an economy and democracy that works for all, that ensures good quality jobs, promotes prosperity and health, and sustains long-term multi-issue social movements that address racial capitalism.
As FJE aspires toward this future rooted in economic, racial, gender, migrant, disability, and climate justice, we're also addressing how philanthropy perpetuates systems of oppression through its grantmaking, employment practices, and investments.
On March 28-30, FJE is hosting a virtual Network Strategy Session where we're asking funders to explore the following: 
What commitments are you making to support power building, worker policy, community organizing, and narrative change?

What do you need to be successful in moving resources toward racial, gender, economic, disability, migrant, and climate justice?

What commitments are you making to movement partners building worker power?
Over the course of three days, we'll strategize around building frontline and essential worker power amid layered crises and discuss how to address the violence of racial capitalism by building power and multi-issue movements. And we'll be joined by the following speakers:
This event builds a space for funders that will re-inspire and motivate us to become bolder, move money outside of the typical silos in which philanthropy often operates, and align our funding with the visions and aspirations of movement partners.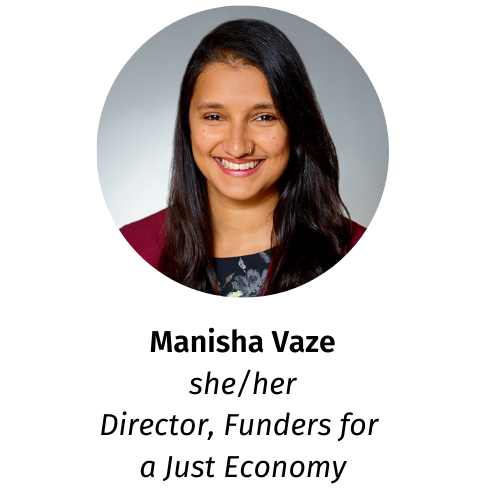 Visit the event website for more details and to register.
Please note that this event is for representatives of foundations, funder affinity groups, and the philanthropic community. Once your registration is approved, you will receive a confirmation with a link for the meetings.
We look forward to seeing you there!
Manisha
PS. Do you know a leader in the workers' rights movement — including volunteers, members, workplace leaders, etc — who is transforming the lives and rights of their fellow low-wage workers of colors? If yes, nominate them for the Discount Foundation Legacy Award to be recognized for their commitment to worker justice. Each winner receives a $20,000 stipend with no strings, stipulations, or reporting requirements. Learn more about the award and submit your nominations by March 7!