This Labor Day, NFG's Director of the Funders for a Just Economy program, Manisha Vaze, met with Larry Williams, Jr., Cofounder of UnionBase, and formerly a Labor and Just Transition Coordinator at the Sierra Club and President of the Progressive Workers Union. In this interview, Manisha and Larry talked about Larry's work and his vision for the labor movement and for building worker power.  
---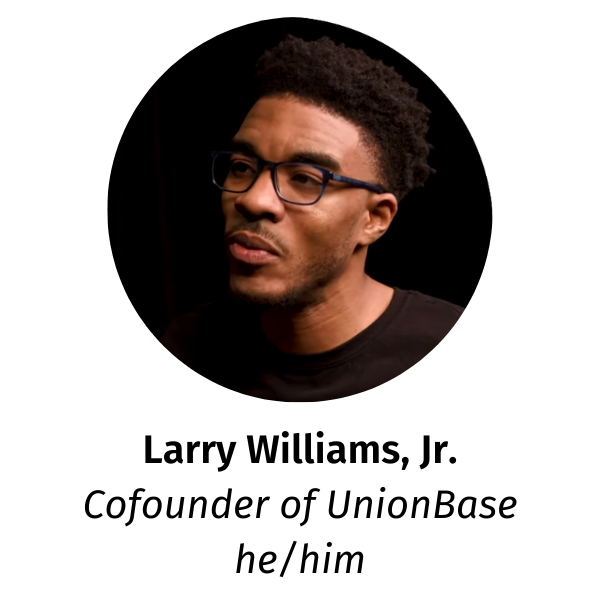 Can you start off by sharing the story of why you started UnionBase? What is the central issue you are hoping to address with Unionbase?
UnionBase is a company and tech platform focused on improving the labor movement and accelerating it's growth. We've been around since 2015 and started as a search engine for unions. Based on user feedback we pivoted to becoming a communication and education platform, building the tools workers need to build power in their workplace. As we started supporting workers we realized there is a serious need for educational content on how to organize and build power in the workplace. As a result we started a magazine that now serves union locals around the United States and Canada, as well as relationships with some of America's largest unions.
We see our mission as not only helping people join unions but also helping unions to become better partners to the communities where they work and their members live. We're also trying to educate people about the history of work, the future of work, and our shared responsibility in directing that future. I want to share how we can make our community and our lives better by organizing our workplaces.
It feels like there's a resurgence of energy around worker organizing, collective bargaining, and the labor movement. What are some issues that come up as we garner more support for the labor movement?
I want to share how we can make our community and our lives better by organizing our workplaces. 
The organized labor movement can be hard to understand but is key to empowering communities, workers, and fighting climate change. For labor to continue to grow and evolve into a more diverse and powerful movement it needs to start looking outward and engaging young people. It is more likely now than anytime before that young people do not know about the history of the labor movement and its achievements.
Though they may come from a working class family, young people may not relate to the traditional message of pride in being a worker or even identify as a "worker".  As some employers are having trouble finding people to do in-person jobs because of COVID-19, young people are saying, "Why would I want to be a waitress or work in an office and risk my life to make a very low wage when I can work for myself?"
Simultaneously, some young people are excited like never before to build power for themselves and their community starting in the workplace and we see that in the increasing number of organizing campaigns happening across the United States.
Can you talk more about the experience of organizing your own workplace? What did you learn and what were some challenges?
I had the blessing of experiencing first hand what can happen when workers build for a better future but forming a union. I was the first President of Progressive Workers Union (PWU), a decentralized, independent union that was started by workers employed at the Sierra Club. PWU's organizing efforts captured the imagination of many nonprofits workers around the country when we won what has become the model for how to represent staff who work at nonprofits.
There are many notable victories in the contract that make Sierra Club a better organization and allowed for a much better relationship between all staff and the organization's leadership. The first contract includes many important improvements but a few worth naming are Compensatory Time, Family Sustaining Wages and improved Paid Family Leave.
Also, the entire organization now does a yearly pay review which allows the union to ensure that there is parity amongst staff across the organization and its affiliates. Every year, the union compares salary with the MIT wage scale. Through this analysis, pay inequality impacting women and people of color can be addressed. This was a unique solution we were able to negotiate through the union contract and was a victory for both the employer and employees.
What are the benefits for major organizations when they have a unionized workforce?
In all of the places where the organization was falling down the union was stepping up to support these workers.
There are several ways that unionized workers create more value for the organizations where they work. Most people think unions only care about wages. While fair pay is important, what people don't realize is the respect that union workers have for the work that they do. Workers in a union are more secure in their jobs and produce better work. One thing that is core to why PWU works is that most workers come to nonprofit organizations as young people hoping to change the world. Nonprofits have an unintended habit of exploiting young workers until they burn out, then replacing them with another young person. In PWU all of the unit representatives, bargaining teams, and union leadership saw a vision for changing this paradigm, and believed that forming a union was the place to achieve a vision of changing this reality and we did it. For example, recently the Intercept wrote about how the Sierra Club's Executive Director, Micheal Brune, was stepping down. All throughout that media's reporting, and in the internal report, you can see how many ways the union took on sexual assault cases. In all of the places where the organization was falling down the union was stepping up to support these workers.
Over the past several years and throughout this pandemic, workers have been in motion – striking and demanding better wages, health protections, working conditions and benefits in solidarity with the larger community. These campaigns have also been connecting worker justice to other social movements, like the movements to divest from policing and ICE, climate justice, and disaster recovery and relief. What do you think about these new unionization and collective bargaining efforts and what are the opportunities you see for the labor movement overall?
This is a make it or break it moment. While there is infinite opportunity for labor, success in the future is by no means guaranteed.
This moment has the potential to be a new golden age for labor and we've been preparing for it for the last ten years. Even prior to the pandemic, the working conditions of millions of Americans were revealed to be unbearable, and their income, which has stagnated in the face of skyrocketing living costs, is unsustainable. The pandemic has shined an even brighter light on this issue as many frontline workers lauded as heroes have been, in reality, treated as disposable. Without the protections and voice that comes with being in a union, frontline workers have been incapable of getting the hazard pay, protections, and living wages they have more than earned. Also, the labor movement has struggled to address issues of police brutality within its own membership. This is a make it or break it moment. While there is infinite opportunity for labor, success in the future is by no means guaranteed. The only answer is that people from underrepresented and impacted communities must be supported as legitimate leadership of unions. That means not just being in the room but making sure they are leading the decision making process.
You mentioned that we're in a make it or break it moment. What do you see as the best path forward? How might funders be supportive?
Funders should look for the people who are building relationships and doing organizing work, who have success doing it, and then figure out what is the quickest path to get the money to them with reasonable accountability but maintaining the least amount of control possible. Then they will see what their investment can do a lot better than if they request endless reports that may not reflect the value of the work being done. The people who are doing the work often have a difficult time connecting with funding opportunities despite their record of success.
I recognize the challenge for funders: they have a lot of rules and organizational things [to consider]. But, I think that there needs to be a more light weight process for making the connection between the people who need the money and the people who have the money.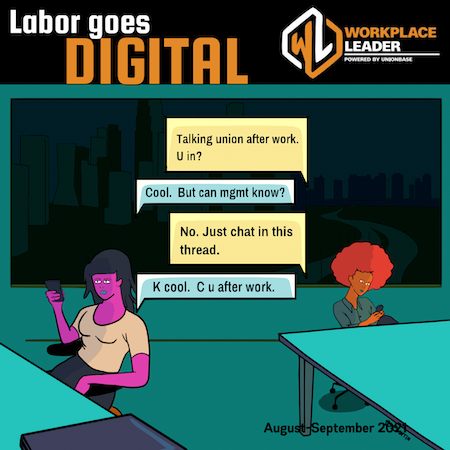 Cover of Workplace Leader, a magazine for workers by UnionBase.
Also, funders should be setting an expectation that employers follow labor law and normalize unionization. Funders can take an active role in supporting workers by setting standards for their major funding recipients. For example, funders can use the MIT family sustaining wage calculator and other normative standards that help employers and workers find agreement. That way we're all on the same side and able to seek labor peace. It's about smarter decision making, engaging employers, the employees, and funders in productive conversations.
What's next or upcoming for you and UnionBase?
UnionBase is scaling up to continue helping workers transform themselves for a new era of work. Meanwhile, we will continue to push the organized labor movement to expand outside of its comfort zone. Many workers are asking themselves, "How do you start and run a union with values centered around justice and equity?" UnionBase will be engaging in conversations with interested unions and funders to directly support the education of workers who want to organize traditional, independent and decentralized unions.
Thank you so much, Larry! I'm really excited to see how UnionBase will continue to bloom.
---
More resources to learn about UnionBase: