In the face of COVID-19, Amplify is stretching from our core! We maintain our central belief that community power drives just and equitable development, and feel strongly that all funders should:
Give more than you ever thought possible. As a time-limited pooled fund, we are reallocating budget items so we can distribute as much in direct support as possible. We hope you give at the maximum level possible even if that's above the 5% minimum endowment payout or your current averages.

Root in racial justice now more than ever. We are continuing to resource local organizations led by directly impacted people in our 8 places across the country, and encourage you to support communities as decision-makers, follow local expertise and prioritize local leaders and leaders of color.

Do what works for grantees. We are steadfast in our commitment to listen to grantees first and then act quickly, and, collaboratively, with philanthropic partners. When distributing resources, consider using JustFund, an online "one-stop shop" application portal to reduce redundancy and burden for grantees.
We formulated Amplify's COVID-19 response (detailed below) based on what we heard directly from our grantee community -- 47 organizations across the 8 places where we work. If you are a funder looking to support power building groups working on equitable development during COVID-19 we welcome you to join us! Just send us an email at amplify@nfg.org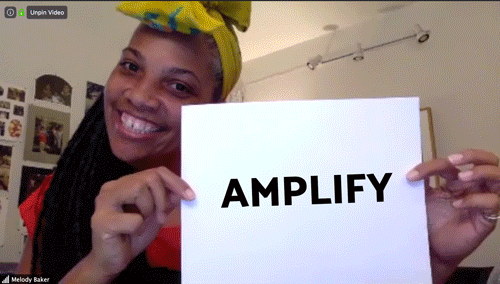 ---
SUMMARY OF NEEDS & PRIORITIES SHARED BY AMPLIFY GRANTEES:
Organizational operating expenses (including rent, supplies, salary, benefits, etc)
Technology (including equipment, hardware, software)
Training on how to engage with communities remotely (including communications support, remote and digital organizing tools)
Support for staff and member health and wellness (including direct material aid, wellness programs, self-care)
Mutual aid and community resilience
Organizing and advocacy campaigns for a just response to the pandemic
Budget planning and fundraising support
---
COVID-19 SUPPORT OFFERED BY AMPLIFY: 
COVID-19 Grants for Current Amplify Grantees: To supplement current grants, Amplify is offering one-time grants of up to $5,000 to meet immediate organizational needs during this pandemic. As always, these flexible funds are for unrestricted 501(c)3 organizational operating expenses.
Capacity-building, Technical Assistance, Cross/Peer Learning: Amplify will partner with trusted and values-aligned technical assistance providers to offer group trainings and tailored coaching related to the needs and priorities requested by grantees (this may include support for the Paycheck Protection Program since the process is so difficult to navigate). In the short-term, as we continue physical distancing, these offerings will take form as webinars and virtual peer-to-peer sessions.
Fundraising and Funder Organizing Resources: We know that Amplify does not have enough resources to meet all grantee needs during this pandemic but we are giving more than we orginally thought possible. (See our statement as part of NFG's Call for Social Solidarity here.) Now more than ever, we are committed to raising grantees' visibility in the broader funder community and partnering with grantees to determine where and how to secure support from local, regional or national funders. Specifically, we are:

Working with JustFund to maximize the visibility of grantee proposals to other funders.
Sharing other COVID-19 rapid response funds that may be of interest to grantees, like this list.
Making ourselves available to talk through fundraising plans or influence other funders based on grantees' needs and guidance.