The future of safe, healthy, and clean communities are on the ballot across the country. As more state legislatures exercise increasing austere power over policing, voting, housing, healthy neighborhoods, and new green jobs, grassroots organizations are experimenting with narratives and base building strategies that are responding to the multiple opportunities this election cycle represents and converting those strategies into winning policy solutions that work in rural, suburban, and urban communities. In areas like Long Island, central New York and southeastern Massachusetts, multi-issue organizations are building power to determine the fate of states where austerity measures are becoming the norm.
Join Democratizing Development Program for a two-part series to unpack consequences of the midterm elections in New York and Massachusetts. What do the elections reveal about policy solutions to interrupt violence and promote safety and dignity for all? What strategies are multi-issue organizations employing to bridge rural and urban communities to combat climate change and promote safe, stable and sustainable neighborhoods? How are coalitions advancing narratives that generate revenue, invest in the social safety net, and chart an inclusive world for future generations?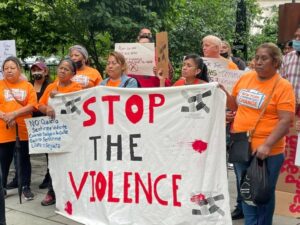 Part 1: Understanding the March Towards Justice
November 16, 2022 10:00 - 11:00am EST 
What does Long Island reveal about the power of progressives in some of New York's most tightly contested regions?  How are base building organizations defending decades-fought progressive wins in those areas? How will the path towards a dignified economy in New York be secured in places such as Long Island?
Speakers include:  New York Communities for Change
Part 2: Building Power in the Battlegrounds of New York and Massachusetts
December 1, 2022 10:00 – 11:30am EST 
What do battleground regions of typically progressive states reveal about strengthening community organizing? How are organizations connecting the fight for criminal justice and housing justice to protect and support community? How are tenants rights organizations advancing multi-issue agendas and building broad coalitions to bring about change?
Speakers include: Hudson-Catskill Housing Coalition, City Life/Vida Urbana, and For the Many
Event photo credit: New York Communities for Change