All funders are welcomed to register for this event! Please create an account on our website to register. For security purposes, new accounts take 24 hours or less to be approved. You will receive an email notification when your account is approved. We look forward to your participation. Please contact neda@nfg.org with any questions!
Planning Committee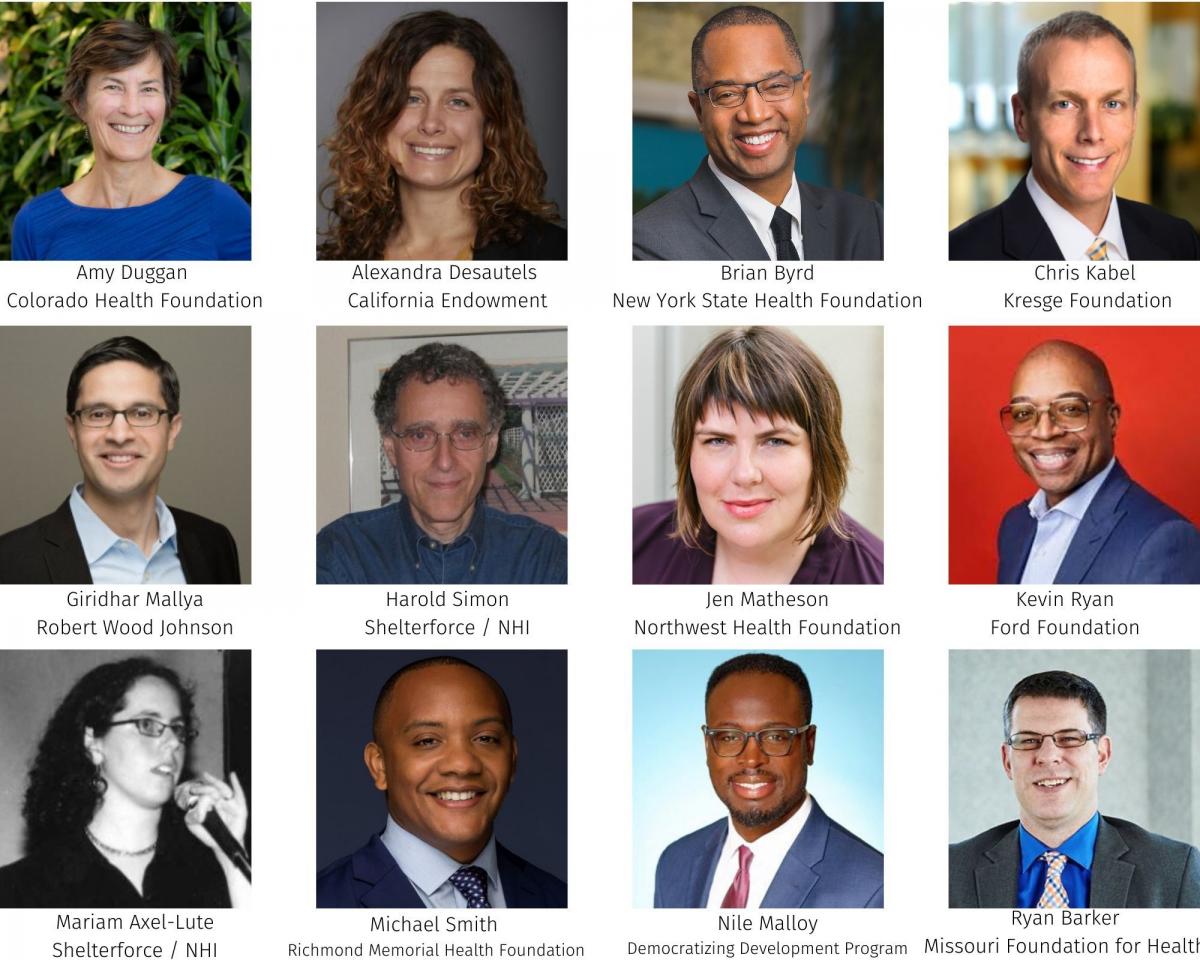 Across the country, community residents and institutions are collaborating, networking, organizing, and passing policies to protect renters and preserve and expand affordable housing. Yet, from rural to urban, and from hot to cool markets, low-income individuals and families continue to struggle. Housing is one of the best-researched social determinants of health, and selected housing interventions for low-income and communities of color have been found to improve health outcomes, as well as prevent homelessness. When the ability to afford quality housing is out of reach, both social and health outcomes are adversely affected.
Numerous studies have also shown how structural racism in the U.S. housing system has contributed to stark and persistent racial and health disparities for low-income and communities of color.  Reducing inequities in health requires us all to examine the systems that initiate and sustain inequities in a broad range of societal institutions that are the drivers of these inequities. What role are funders playing in strengthening the voice, influence, and power of low-income residents and communities of color in the civic process at the local, regional, and state levels? How are health funders advancing an approach of people, place, policy, and power?
We will share, learn and strategize with our peers on how to be effective grantmakers by moving the needle to address structural racism and shifting grantmaking to support racial equity and community needs.  This strategy meeting is a continuation of the Neighborhood Funders Group (NFG) session "Catalyzing a Movement for Health and Housing" at Grantmakers In Health's national conference in Seattle, where nearly 90 funders attended a panel discussion on how philanthropy can invest in community housing solutions. Despite a large number of concurrent sessions, funders filled the room to dig deep into the urgent issue of equitable housing — and what role health funders can play in addressing this critical health determinant.
The convening goals include:
Funders and community partners engage in intersectional conversations of health, housing, race, equity, and power.
Funders will strategize and share practices and successes of funding the ecosystem of health and housing protections, preservation, and production solutions.
Funders will hear from leaders about local, regional, and state organizing approaches to build power and opportunity in this political moment.
Funders will build collective knowledge around institutional shifts, shared strategies, and grantmaking approaches that move forward a racial equity agenda.
Funders will understand the role of funder organizing and moving resources together for a more significant impact.
Funders will have a greater understanding that community power building and housing are social determinants to health
We will hear powerful presentations from community leaders, academics, public health experts, and funders on how resident engagement and power building is linked to an ecosystem of housing solutions to protect, preserve, and produce quality affordable housing. We will also hear grantee stories on how groups are organizing themselves and their communities, as well as shifting grantmaking approaches to align and collaborate to move resources to address community needs.
Sponsored by The California Endowment, Robert Wood Johnson Foundation, Grantmakers In Health, Colorado Health Foundation, Richmond Memorial Health Foundation, Shelterforce, Ford Foundation, Northwest Health Foundation, New York Health Foundation, Missouri Foundation for Health, Kresge Foundation and the Neighborhood Funders Group.
For more information, contact Nile Malloy, Senior Program Manager, Democratizing Development Program at nile@nfg.org.