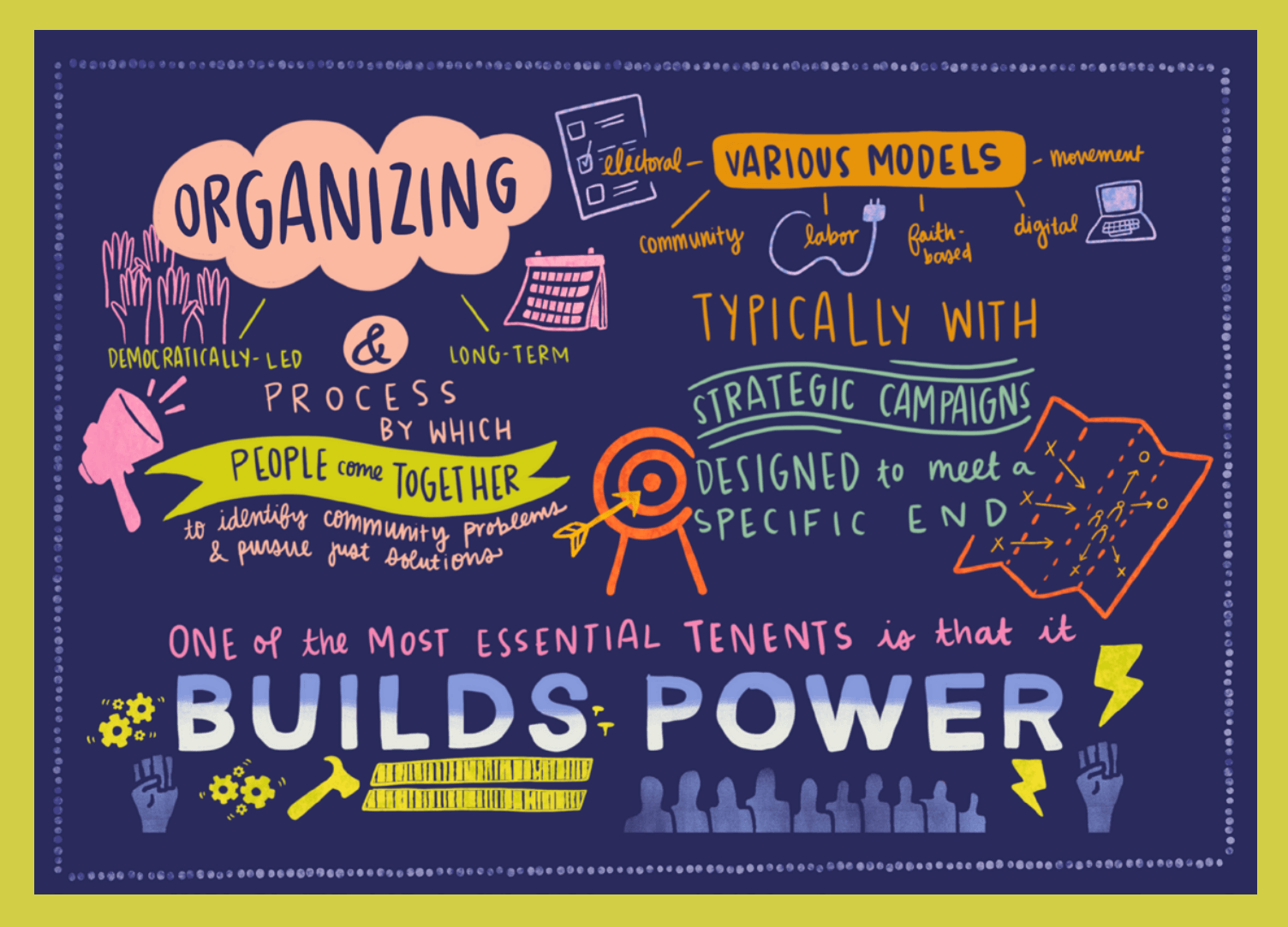 Graphic illustration by Laura Chow Reeve from Organizing DMV's Maximizing the Moment report.
Supporting the South.  Resourcing Black-led organizing. Shifting to trust-based practices. Funding to win. While philanthropy grapples with what these critical ideas mean in practice, some Washington DC, Maryland and Virginia (DMV) organizer and funder partnerships are showing how it's done. Featuring a powerful new analysis by the Organizing DMV collaborative, NFG's community is invited to join our latest Building Power in Place discussion on Wednesday, July 21st at 11am PST/1pm CT/2pm EST featuring groundbreaking movement organizing and funder strategies from Greater Washington DC.
Through campaigns taking on pressing issues of a fair wage, gentrification, COVID-19 unemployment and more, DMV organizers have brought a racial equity lens to intersecting issues of community development, economic justice, worker organizing, education, and migration. Their work has advanced new transformative and model policies across the region – including in previously conservative-dominated statehouses like Virginia. DC's foundations have followed suit, pushing forward trust-based philanthropy models and a Resourcing Radical Justice collaborative centering Black liberation as the path to  a thriving Greater Washington area. We hope you can join us – and invite your colleagues and friends outside NFG – as we take the lead from and link with movements who have taken the struggle for racial, economic, and social justice to the heart of US power.

Speakers:
Bert Bayou, Chapter Director, African Communities Together
Larry Stafford, Executive Director, Progressive Maryland 
Shakeara Mingo, Organizer, ONE DC
Aisha Alexander-Young, Meyer Foundation and co-chair of Resourcing Radical Justice
Nat Chioke Williams, Executive Director, Hill-Snowdon (moderator)
This meeting is the latest NFG Building Power in Place strategy session — which bridges organizers and funders with place-specific research highlighting groundbreaking community and worker organizer strategies.

About Organizing DMV:
This webinar is hosted by NFG's Funders for a Just Economy and features the new Maximizing the Moment report by webinar co-sponsor Organizing DMV, a regional learning community centered on deepening funder engagement, knowledge, and support of DMV-based community organizing groups, efforts, and initiatives. The group provides touch-points for local, regional, and national funders to better understand and familiarize themselves with the Greater Washington organizing infrastructure and happenings through events, discussions, publications, and more, in partnership with the organizing community. Organizing DMV seeks to build and sustain relationships between the funding community, as well as between funders and organizers, to grow the funding capacity of the sector.
Members of Organizing DMV include representatives from Greater Washington Community Foundation, Meyer Foundation, Consumer Health Foundation, Weissberg Foundation, Hill Snowdon Foundation, and Diverse City Fund.