Rooted: NFG Political Education Series
Session 3 - Do Better: Grantmaking Practices Toward Community Accountability
September 21, 2023 | 10am PT/11am MT/12pm CT/1pm ET
In our programming, we often hear movement leaders repeat the same refrain: "Fund us like you want us to win, cut the check and get out of the way, give multi-year general operating grants, offer more flexibility, and take the time to build relationships." Some foundations are also leading the way in making some of these changes and shifting resources from the perspectives of redistribution and reparations, where possible. Some cumbersome practices were lifted in the wake of COVID-19, demonstrating that shifts are possible if there is institutional commitment.
However, we still see that BIPOC-led community organizing is undervalued and underfunded. For example, many of the temporary funds for Black-led, racial justice work no longer exist. What does it look like to do grantmaking differently, and support community organizing for the long term? Join us to learn more about principles and philanthropic practices funders can integrate and utilize to be in solidarity with and accountable to movement.
Funders will share the underlying principles of how they strive to support community organizing. We'll discuss concrete grantmaking practices and structures that can increase accountability, flexibility, and the ceding of power and resources, as well as what the barriers are that funders experience in attempting to shift toward these practices. We'll dive into the ideas of moving at the pace of trust, liberatory practices, participatory grantmaking, and removing burden from grantees. Let's talk about what we actually mean, get on the same page, and move toward action.
Speakers:
Angélica Chavez, Field Foundation of Illinois
Melody Baker, NFG's Amplify Fund
Molly Schultz Hafid, Butler Family Fund (moderator)
Samir Doshi, CS Fund
Previous sessions:
Session 1: Why Community Organizing?
March 7, 2023 | 9am PT/10am MT/11am CT/12pm ET

Speakers:
Jawanza Malone (he/him), Executive Director, Wieboldt Foundation
Kiyomi Fujikawa (she/her), Co-Director, Third Wave Fund
Lanita Morris (she/her), Senior Capacity Building Co-Director, Groundswell Fund
Session 2: Utilizing a Racial Capitalism Framework to Shift Culture in Philanthropy
April 13, 2023 | 10am PT/11am MT/12pm CT/1pm ET

Speakers:
Breechaye Milburn (she/her), Program Officer, Racial Justice at Wellspring Philanthropic Fund
Ria Pugeda (she/her), Senior Program Officer, if, A Foundation for Radical Possibility
Christina Garcia (she/her), Founder, Christina Garcia Consulting
Register here.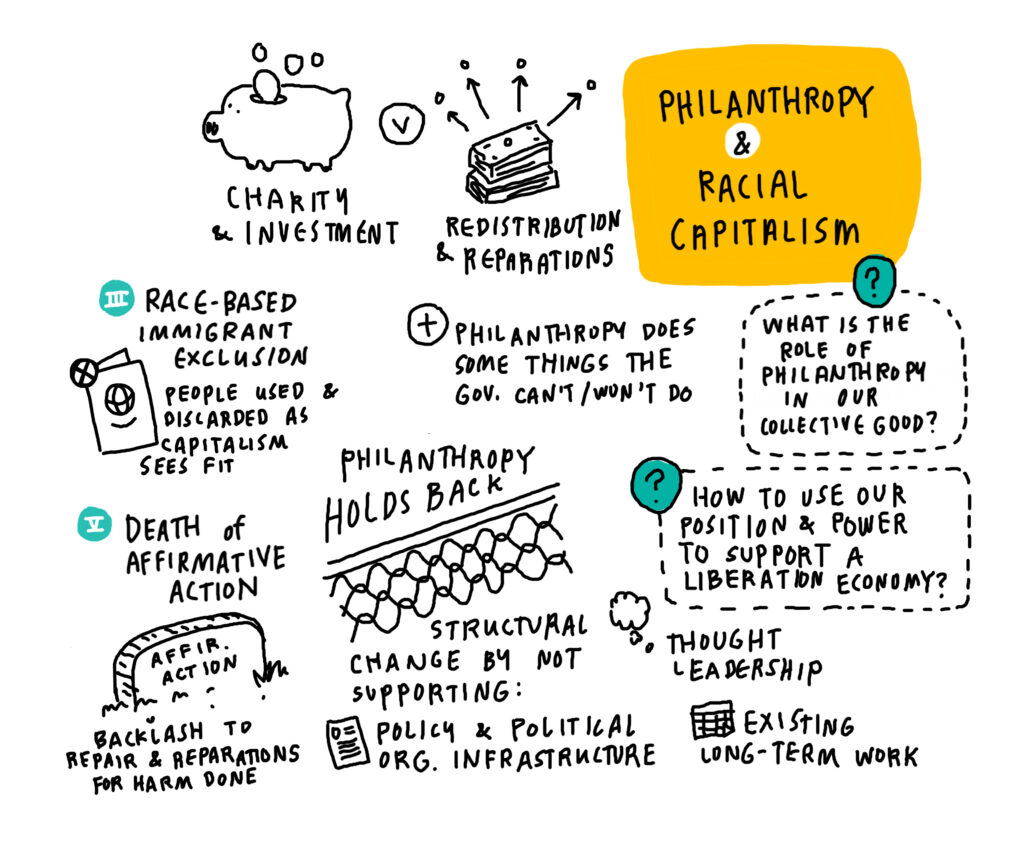 About this series:
NFG cultivates spaces of connection, strategy, and action to shift more philanthropic resources to community organizing. We are excited to share a political education series where funders can grow together as we build towards communities of color having the power to self determine. Join us for an intentional political education and funder organizing space to learn more about why philanthropy must do things differently, and how. 
Community organizing is a mechanism toward resisting systems of oppressive power and fighting for self-determination so that communities have what they need to thrive. Movement is led by and for community, deeply rooted in culture and place, and pivots to meet unanticipated needs. NFG's dedication to lifting the importance of community organizing is two-fold: organizing is central to creating change and shifting power, and also is immensely difficult, long-term work that is significantly underfunded by philanthropy. 
Some philanthropic practices are shifting, with more funders trying to move in alignment with community groups. In this series, we'll be sharing examples of philanthropic shifts and experiments toward better practice, with space to strategize together on how to grow these changes further. Additionally, we will continue to learn more deeply about racial capitalism and how the historic theft of resources from BIPOC communities continues to have ramifications today. It's time for funders to do this work in our spheres and show up with deep solidarity (and resources) to support community organizing and movements. Join us to learn why community organizing, how funders can (and are!) moving differently, and how the historical underpinnings of racial capitalism creates a useful map for the culture shift needed for philanthropy.