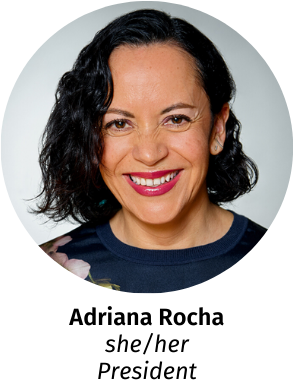 My relationship with NFG started in the mid 2000s, first as a member while at the New York Foundation, then as NFG's Vice President of Programs, as Interim Co-Director, and now President. My energies have focused both internally on the strategy, structure, and culture of NFG, as well as on the programming and relationships with our members and the larger philanthropic ecosystem.
Currently, NFG is the strongest programmatically and financially that our organization has ever been. Our member leaders actively support our programming, engage in funder organizing, and are co-conspiring to move more money to racial, gender, economic, disability, and climate justice.
I am writing today to share with you that after much reflection, I am clear that I have given all I can and will leave NFG on July 5. I love NFG and our work. I love the camaraderie, commitment, and joy that our staff and members bring to liberating all of the resources in philanthropy.
And in my five years as NFG staff, I have been particularly proud of my work to:
Leaving NFG is not an easy decision. I also know and am clear that my family and I need something different. This transition comes at a time as my father has entered hospice care in Mexico, and my son is transitioning to middle school. Life continues to offer opportunities to center that which is most important.
NFG has a strong transition plan in place: 
Amy Morris has led NFG's Amplify Fund since 2017 and will be Interim President/Vice President of Special Initiatives — you will hear more from Amy next week in NFG's newsletter
Manisha Vaze has been the Director of NFG's Funders for a Just Economy since 2017 and will be Interim Vice President of Programs
Melody Baker has been part of Amplify Fund since 2018 and will be Interim Amplify Fund Senior Director
Sarita Ahuja (NFG's Vice President of Finance and Development), Manisha, and Amy will form the interim management team
Our Board of Directors is committed and ready to support NFG during this transition plan
If you have any questions about the transition, please be in touch with Amy (amy@nfg.org). You can also join NFG's next Member Connection Call on July 21 with Amy, Manisha, and Courtney Banayad - our Director of Communications & Membership. 
Thank you to the NFG community for your support and partnership. I am so appreciative for the ways that we have moved money to BIPOC and low-income communities, shifted philanthropy to liberate assets, and had so much fun over these past five years.
Un abrazo,
Adriana