Michelle J. DePass, President & CEO of Meyer Memorial Trust, describes how the foundation is supporting Black resilience in Oregon with their largest initiative yet — funding Black-led and Black-centered organizations working toward justice and systemic change. This post was originally published here on the foundation's website.
Michelle is part of the 2019-2020 Philanthropy Forward: Leadership for Change Fellowship cohort, a joint initiative of Neighborhood Funders Group and The Aspen Institute Forum for Community Solutions. Meyer Memorial Trust, a member of NFG, works with and invests in organizations, communities, ideas and efforts that contribute to a flourishing and equitable Oregon.
---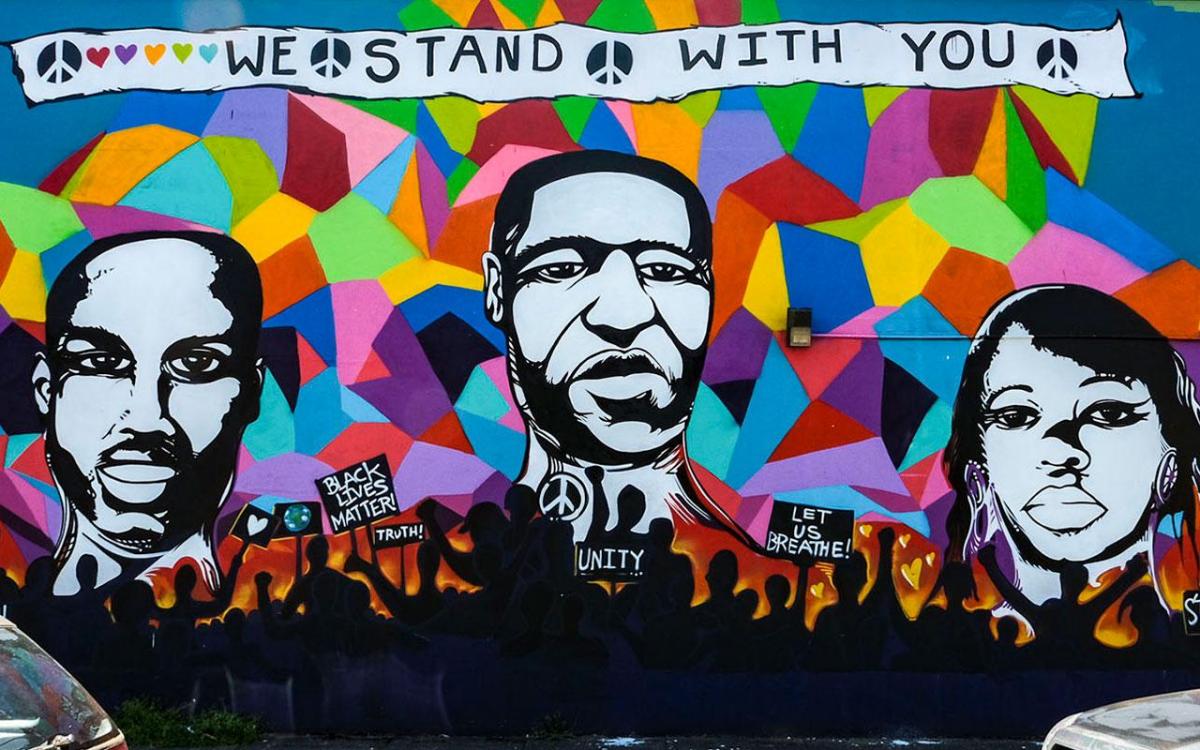 A mural in NE Portland honoring Ahmaud Arbery, George Floyd and Breonna Taylor. | Artist: Christian Grijalva | Photo credit: Tojo Andrianarivo
George Floyd begged the police for more than 8 minutes not to take his life.
Nearly two months have passed since his videotaped slaying, and hundreds of thousands of people continue to take to the streets to protest brutal policing practices against Black Americans, condemn racism, demand accountability and affirm that Black lives do in fact matter.
Diverse and overwhelmingly peaceful, the protests have had swift, wide-ranging impacts. Here in Oregon, tens of thousands from across the state have shown up amid the coronavirus pandemic to add their voices to the calls for justice. In Portland, Superintendent Guadalupe Guerrero ordered "school resource officers" removed from the city's schools, the Portland City Council approved $15 million in cuts from the Portland Police Bureau budget amidst policy calls to support broader public safety and community well-being, and new, reform-minded district attorneys have pledged to change prosecutorial practices in various jurisdictions including Multnomah County.
I'll be plain: These local victories are the product of long-standing leadership, activism and direct action by Black leaders, steadfast allies and, especially, Black-led and Black-serving social change organizations, from established mainstays like the Urban League of Portland to grassroots efforts. Six weeks into the protests, the country is in a moment of unprecedented reckoning as systemic and institutional anti-Black racism are laid bare and growing crowds demand real change. In Oregon, we are faced with an urgent opportunity to transform and build anew. Radical change may be more possible today than ever before.
Meyer Memorial Trust, an institution with equity at the heart of our work, will meet the moment by supporting Black resilience in Oregon.
This month, our board of trustees approved the creation of a five-year, $25 million initiative to make strategic investments in Black lives. "Justice Oregon for Black Lives" is the largest initiative in our 38-year history. Its scale recognizes that racial injustice was built into the framework of a state founded on stolen lands and explicit in its exclusion of Black people. Justice is not simply an ideal; it is something Oregonians should expect to see in our everyday lives. This dedicated funding will deepen support for Black-centered organizations, uplift a just system of community well-being and invest in long-term lasting strategic change. By supporting Black-led and Black-serving organizations that intersect with other communities of color, we know that conditions will improve for all Black, Indigenous and People of Color (BIPOC) in Oregon, and in turn, for all Oregonians.
In an indication of how vitally important this work is to Meyer, we are tapping into our endowment to fund this initiative beyond our usual annual grantmaking.
For six years, Meyer has built towards this moment. We've shared our equity journey, which has reshaped our grantmaking, our hiring practices and how we use our privilege, voice and power. Never has it been more clear that the core concepts of diversity, equity and inclusion point to racial justice, to an Oregon that lives up to the ideals it promised to some and withheld from others.
We start now and will build to make our mark. Initial general operating grants totaling $1 million go out this week to five organizations Meyer already has relationships with that are doing transformative work in Black communities. Another $290,000 supports organizations focused on a wide range of issue areas: decarceration and decriminalization, abolishment of the prison-industrial complex, hate tracking and advocacy, redefining public safety beyond policing and cross-cultural approaches to racial justice. We plan to hire a program director with lived experience to lead the Justice Oregon for Black Lives initiative, deeping our relationships with Black-led organizations and starting new partnerships.
Philanthropic support of Black-led organizations historically falls short and with this infusion Meyer aims to reverse that trend and make this a mainstay of how we invest in Oregon's future from now on. Oregon's flawed founding does not predict its future. The times call on us to eradicate racism and right wrongs. We are proud to back leaders who are not only ready but determined to succeed.
— Michelle J. DePass