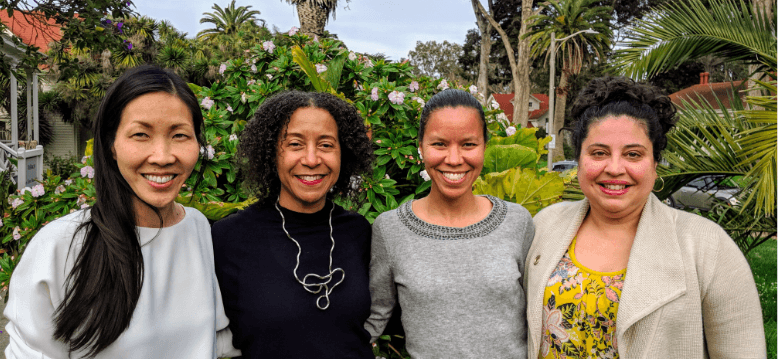 (L-R): Angie Chen (Senior Program Officer), Crystal Hayling (Executive Director), Ashley Clark (Knowledge & Grants Manager), Jennifer Agmi (Senior Program Officer)
NFG's network is composed of 120+ members that work in every part of the nation, in both urban and rural settings, and includes private and public foundations, community foundations, family foundations, corporate foundations, faith-based funders, and other grantmaking institutions. 
We recently connected with Crystal Hayling and The Libra Foundation team about their growth and vision for 2020, which organizations are giving them inspiration in this moment, and why they continue to invest in NFG with their renewed and increased membership.
We love to connect with our members! Share your experiences as part of the NFG network by getting in touch with Lindsay Ryder, Senior Membership Manager, at lindsay@nfg.org.
---
How do notions of people, power, and place fit in with Libra's grantmaking approach?
The organizations Libra supports are building a world where low-income communities of color have the power to determine their own freedom, define safety, and thrive in healthy environments. Families that are separated by mass incarceration, communities whose voting rights are suppressed, and neighborhoods suffering from contamination are among the many ways people, power, and place are at the foundation of structural oppression, and, therefore, the heart of Libra's grantmaking approach. We are centering organizations building power through grassroots community organizing, deep network and coalition building, and progressive advocacy for lasting solutions that work for all.
 
Libra has gone through a bit of a transformation over the past few years, including a new ED and larger staff, a larger public profile, and a refined grantmaking strategy. How has being a part of NFG's network informed or served Libra along the way?
Transformation is a daily practice - a collection of intentions and ideals - with no clear point of arrival. I knew when I joined Libra as Executive Director I wanted to help guide a team of passionate, heart-driven individuals who are committed to doing philanthropy differently and moving resources to frontline communities. We are so grateful to the NFG network for guiding and supporting the changes we continue to undergo. NFG's community of funders and activists have a rigorous and thorough analysis that not only informs our community's understanding and actions, but pushes us all to do better. The network brings together social movement leaders and funders that drive our field to be accountable and unified in our vision for justice.
 
Libra recently renewed its membership with NFG, opting to increase its membership level for 2020. As we enter NFG's 40th Anniversary year, what are your hopes and plans for engaging with the NFG network?
We are intentionally investing more in NFG because of our shared belief in organizing institutional funders to mobilize more resources for grassroots power building. Too often in philanthropy we are siloed by issue areas. Meanwhile, the same folks who are most impacted by criminal justice are disproportionately affected by gender and environmental justice as well. Although it's vital to develop and focus on expertise in each of these areas, it's critical that we as funders take an intersectional approach that recognizes these truths. NFG is leading in this regard, especially in its prioritization of people of color, and Libra aims to do the same.
Our team is planning to engage more in Funders for Justice this year. Lorraine Ramirez helped orient us to all the avenues for collaboration, and we're excited to learn more from the field advisors and members. And we are really looking forward to this summer's national convening! A lot has happened since the NFG community got together last in 2018 and we're hoping that the entire Libra staff will be in attendance.
 
Of NFG's 125 member organizations, are there any funders you would like to give a shout out to for inspiring or partnering with Libra?
What an inspiring group! We are motivated and encouraged by so many of our peer members at NFG. We are fortunate to be in community with lots of NFG members and look forward to deepening relationships. 
To name a few that are a part of the Libra grantee community, Groundswell Fund is doing incredible work in the reproductive justice field protecting women, nonbinary, and trans folks of color across the country. Proteus Fund houses essential donor collaborative funds (like Rise Together Fund) and fiscally sponsors many of Libra's grantees. And of course Common Counsel, which among many other philanthropic services houses Native Voices Rising, a fund that supports Native-led community driven projects across Turtle Island.
When we began refining our strategies here at Libra, we leaned on many of our friends in the NFG network. Specifically in environmental and climate justice, we are learning from close colleagues like Mertz Gilmore Foundation and Surdna Foundation that have shifted their strategies to uplift frontline leadership and people centered solutions to the climate crisis. And we continue to be inspired by colleagues that have led the charge to do philanthropy differently, like Marguerite Casey Foundation and Chorus Foundation (among many others!).
And most importantly, are there any community leaders or organizations that you've been connected to through NFG's network that Libra is supporting or that you are inspired by?
Specifically in 2019, members of our program team attended the Funders for a Just Economy Racial Capitalism convening. We were blown away by presentations from Trans United, which supports visionary trans leadership, and ACRE Institute, which organizes campaigns working at the intersection of racial justice and Wall Street accountability. Following that convening and based on recommendations from partners in the field, Libra funded both in our latest docket.