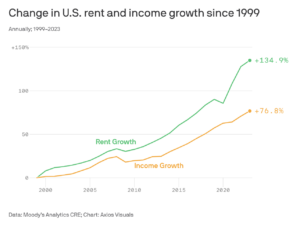 Just a few years after the 2008 foreclosure crisis, tenants and residents are yet again facing another housing crisis. Eviction rates are 50% higher than pre-pandemic levels, the number of individuals experiencing homelessness has reached all time highs with an estimated one in ten 18-25 year olds expected to experience homelessness, and recent data report that one in three Americans will pay an average 36% of their income in rent and may face "difficulties affording necessities such as food, clothing, transportation, and medical care." Numerous studies illustrate the debilitating effects of these facts, ranging from evictions undermining public safety to adverse outcomes for youth and adults mental and physical health. At the same time, corporations, developers and the wealthy continue to generate income off of this pain. Developers and landlords have demonstrated that exploiting climate disasters (like the fires in Maui), the COVID-related unemployment impacts (as seen in Los Angeles and many other places) or the development of police training facilities (as highlighted by Chicago's #NoCopAcademy and Altanta's #StopCopCity campaigns), are lucrative opportunities to accumulate wealth by extracting higher rents/mortgages and quickening displacement.
To grapple with the latest way disaster capitalism is impacting housing and rental markets, communities are organizing and building power to raise funds and pilot strategies advancing land justice, land stewardship, and community ownership. In response, funders of the Democratizing Development Program at Neighborhood Funders Group committed to learning the ways in which philanthropy should support the self-determination of communities most impacted. Over the course of a year, DDP funders participated in virtual and in-person learning sessions with movement partners and community ownership practitioners across the country. Organizers from Minneapolis, New York State, Massachusetts, California, Miami, and Atlanta, offered one resounding conclusion: real
estate, landlords, and developers who most benefit from the latest housing crisis are organized to retain power over government and are actively seeking to thwart solutions. Amidst that clarity, another question emerges: What is the meaningful responsibility of the philanthropic sector to stem the crisis that tenants face while their endowments swell from private real estate's extraordinary growth from said crises?
It is impossible to understand our modern global economy without the role that real estate has served in widening the gap between the ultra-wealthy and everyone else. Since last year, the value of US private real estate has increased by $2.5 trillion. Meanwhile approximately 5 million households possess rental debt totaling $11 billion dollars. It is increasingly clear which institutions are benefiting from real estate's astounding wealth accumulation. Endowments for the University of California system, as well as universities in Washington and Texas, have invested billions of dollars into landlords and developers. In January 2023, the University of California made a multi-billion investment in Blackstone's Real Estate Investment Trust- one of many private-equity firms that back abusive corporate landlords with documented histories of extracting wealth from BIPOC-tenants, residents, and aspiring homeowners. There is no single source that details how much wealth foundations and donor-advised funds accumulate by investing in the real estate sector's growth. However, if university endowments are instructive of how foundations accumulate resources, then there is little doubt that foundations are earning resources from the same actors that are evicting long-time residents at alarming rates and strengthening landlord/developer's influence on local, state, and federal governance. Regardless of the answer to that question, the philanthropic sector should be clear about how all of its resources, including grants and investments, could be intentionally or unintentionally worsening the housing crisis. A commitment to affirm the dignity of people everywhere means that philanthropy can no longer view this crisis as ancillary while at the same time fueling it.
For DDP members, a commitment to resource land stewardship and community ownership can begin to address this contradiction through grantmaking. Land stewardship is a tradition that Black and Indigenous communities have practiced to preserve self-determination and create a bulwark to colonialism, rapacious capital, and neoliberalism for generations. One definition of community ownership describes it as community-led initiatives such as community land trusts, housing cooperatives, and other shared equity models that are developed by and for the benefit of residents, not speculative developers or other public and private institutions who often fail to engage community leadership. Foundations such as the Pohlad Family Foundation, Hyams Foundation, Kresge Foundation and The California Endowment have resourced community ownership tools to foster widespread housing affordability, close the racial wealth gap and build intergenerational community wealth, support Indigenous self-determination and autonomy, and increase the right to health equity. In Minneapolis, organizers with Inquilinxs Unidxs Por Justicia launched the Sky Without Limits Cooperative by organizing tenants and allies to force the landlord to sell their long-neglected apartments back to residents. In California, residents organized to launch the Fideicomiso Comunitario Tierra Libre to deliver affordable and safe homes for residents in Boyle Heights and East LA. Leaders of Fideicomiso Comunitario Tierra Libre co-launched the Community Ownership for Community Power Fund-an integrated capital fund that leverages state and philanthropic funding to scale community ownership strategies
across California, increase access to patient and immediate term capital, and enable residents to govern investment (click here to learn about their work from DDP's Land Stewardship Learning Session in December 2022). Similarly, in Boston, City Life/Vida Urbana organized residents of East Boston to steward a Mixed-Income Neighborhood Trust to preserve affordable housing. Philanthropy should resource the leaders and organizations that are piloting and scaling these solutions that preserve, build, and protect affordable and safe homes and neighborhoods.
Even if funders are unable to deliver investment capital, there are still opportunities to advance community ownership. 
Funders can move

five to six figure general operating funds

to ensure base building organizations can continue to organize residents to creatively scale community ownership models. 

Deliver

short-term, rapid response grants

in critical moments of an organizing campaign to support organizations to get their work over a finish line. 

Funders can also support

capacity building

and

technical assistance

to help organizations close gaps in fundraising or technical expertise. 

Provide

long-term, multi-year support

, especially when push-back heightens from landlords and developers who see their profits at-risk because of grassroots organizing. 

(click here to watch part two

of the Land Stewardship Series that highlights recommendations from foundation leaders.)  

Finally,

divest from harmful companies

that profit from the housing crisis, leverage your foundation's role as a shareholder to

shift corporate practices

around real estate speculation, and

invest zero-to-low interest loans

in community ownership models like community land trusts or community-owned housing. 
We also believe philanthropy should continue to reckon with how it accumulates resources that directly or indirectly contribute to the reasons for these solutions to exist. If philanthropic endowments spur real estate markets to fund landlords that evict, price gouge, and displace BIPOC-communities at unprecedented rates, then philanthropic endowments may be culpable for the problems they seek to remedy. Or worse yet, philanthropy could be worsening the housing crisis for everyone. Foundations should publicly affirm that they screen investments  that disproportionately evict Black and brown tenants, or invest endowment funds directly into community ownership projects.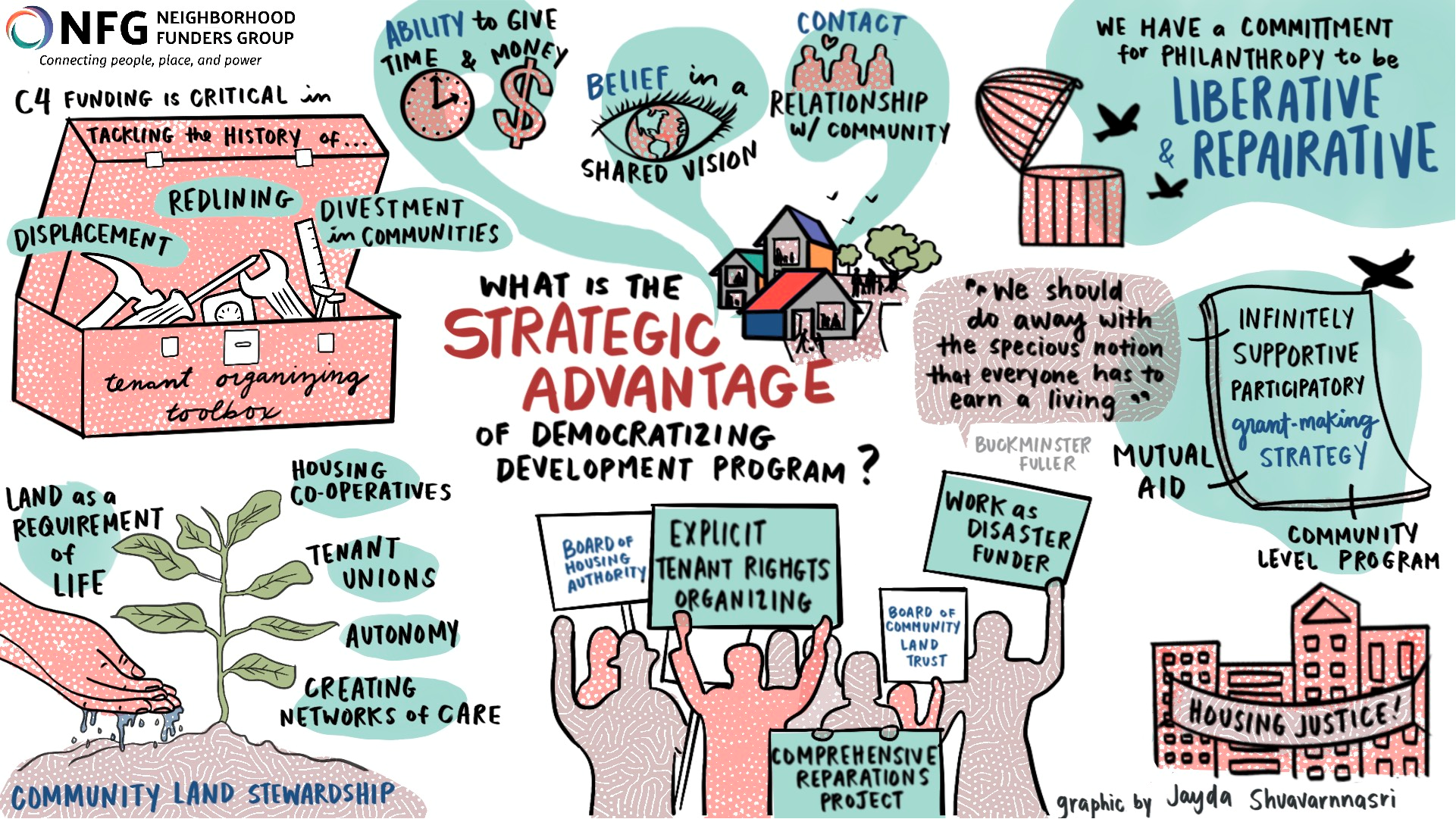 Please contact me chimene@nfg.org if you want to join the changemakers in DDP who are organizing philanthropy to support organizing toward community solutions for housing justice.