While the public eye (rightfully) centered on the US presidency this election, worker-led organizing made tremendous waves across the country in ballot initiative, issue-based wins and get out the vote mobilization, including in closely-watched swing states. Corporations and the ultra-wealthy also pushed their agendas of racialized and gendered inequality ahead, most notably California's anti-labor rights "gig" worker proposition. While the full significance of the election is still unfurling, the results point to the power of long-term, worker-led organizing led by unions, place-based worker organizations, and abolitionist movements. These efforts belie any easy answers from red or blue maps - but instead point to the critical ways intersectional movements build across the losses, lessons, and confrontations with corporate agendas that line the hard road to ground-breaking wins.
#RedforEd Returns, Victorious
In Arizona, voters boosted school spending and, specifically, teacher salaries through a 3.5% tax on those making more than $250,000. Proposition 208 came as a direct response to teacher labor organizing, especially the 2018 Red for Ed strikes in Arizona, a wave of teacher's actions that started in anti-labor states like Arizona and eventually reached Democratic-led, but austerity-stripped cities. The 2018 Arizona strike brought a 20% raise for teachers but did not meet demands for school staff funding, guarantees for raises or spending to meet national standards. But organizing among teachers did not flag, including a more recent set of strike actions to challenge early re-opening of schools in the COVID-19 crisis and the fight for Proposition 208, accompanied by a jump in teacher union membership 10%. Similar measures to increase taxes (including via cannabis legalization) to boost school spending won across Wisconsin localities and in other states, including a new tax measure to fund Universal Pre-K in Colorado. 
Fight for 15 Breaks Through in the South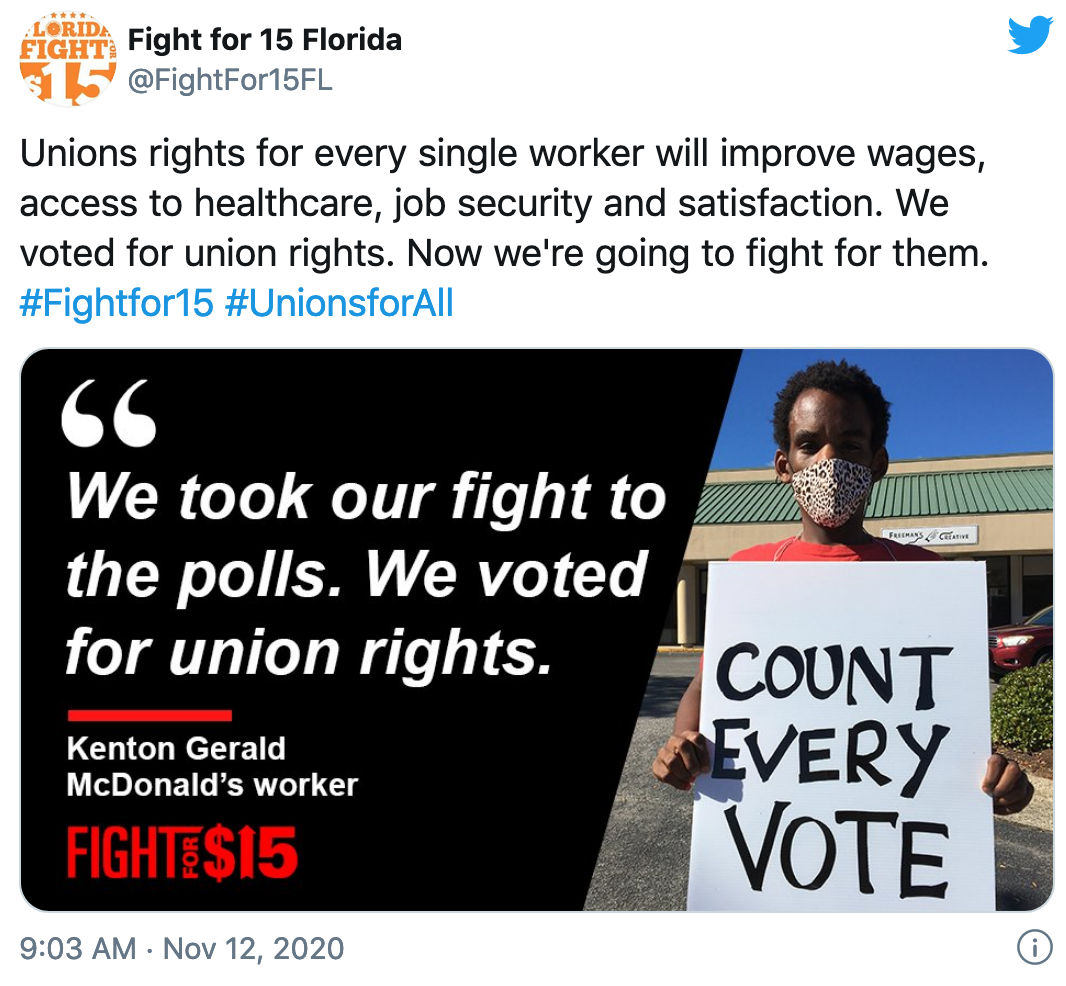 Florida surprised many when it passed a minimum wage of $15, with a significant 60% of the vote and a transformative bump from the current minimum of $8.56. While actively challenged by the Florida Restaurant and Lodging Association, the wage hike was advanced by an extensive door knocking this election season and long-term campaign of strikes and actions since 2012 by the Fight for $15 coalition. Spearheaded in part by SEIU and including the Sierra Club Florida, Florida Immigration Coalition, the Poor People's Campaign, and Democratic Socialist of America (DSA) chapters, the Fight for $15 had recently been an active part of the Strike for Black Lives, featured in our recent Strike Watch.  Get Out the Vote efforts by the multi-racial, multi-issue New Florida Majority coalition, tied to national Seed the Vote 501(c)(4) and PAC networks in swing states, also pointed voters to the amendment, part of the latest in the NFM labor-community coalition's efforts on worker's rights. The Florida win tiptoe on the heels of two voter-approved Southern minimum wage hikes in 2018 in Missouri and Arkansas, that won by more than 62% and 68% respectively.
Making Paid Sick and Medical Leave a Public Good
Colorado residents turned out at 57% to support paid family and medical leave for 12 weeks through Proposition 118. Voters pulled off what legislators had failed to do in multiple sessions, with lawmakers having faced some of the most expensive lobbying efforts in 2019 in Colorado against the bill by local Chambers of Commerce and corporate interests. Through a pay-in system by workers and businesses, the new measure covers up to 12 weeks for childbirth, adoption, medical emergencies in their families, a family member's active-duty military service, and reasons related to abuse and sexual assault – with a higher pay rate coverage for lower-wage employees. The structure shows the influence of growing, more comprehensive organizing on this issue, in that the policy is inclusive of all workers and publicly-managed, in ways prior state-level bills have not been.
Proposition 22 and the Challenge of Corporate Tech Spending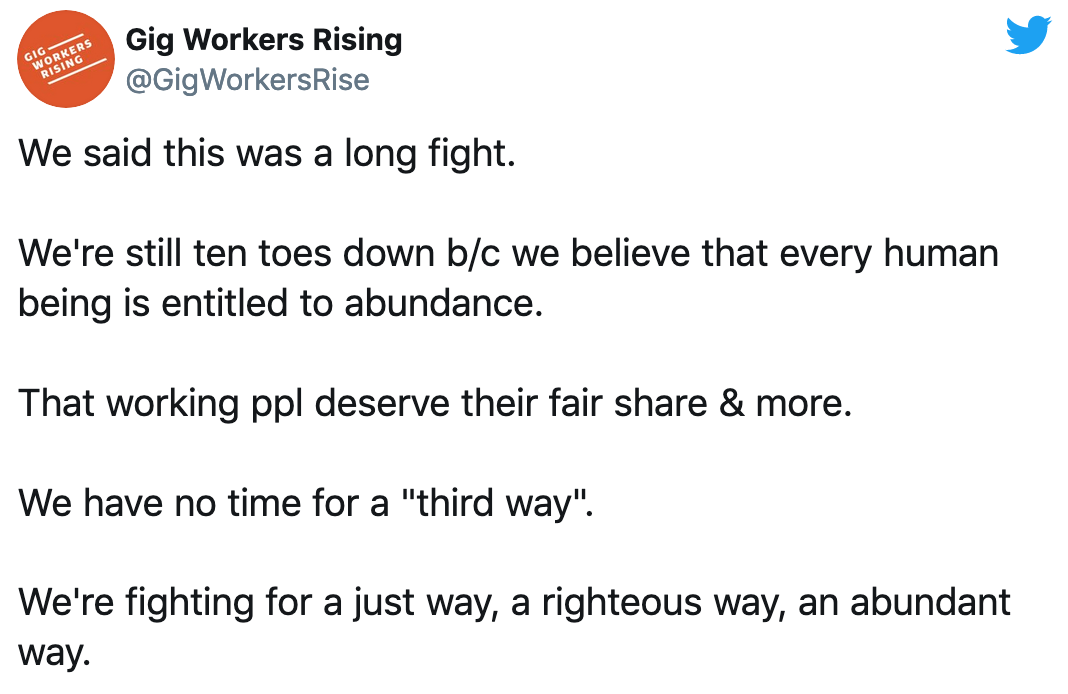 Speaking of expensive measures, there was also devastating news on the ballot initiative front for workers – most notably with the passage of Proposition 22 in California. The $200 million dollar effort by Uber (now merged with Postmates), Lyft, Doordash and other tech corporations that rely on vulnerable low-wage service labor was the most expensive ballot measure in California history. The law now excludes app-tied workers from the state minimum to a pay guarantee that only amount to $5.64 an hour, limited health benefits based on hourly requirements, and exclusion from NLRB collective bargaining, worker's compensation and other rights. It is also sealed with an unprecedented provision requiring 7/8th legislative majority to overturn. Researchers and organizers have noted the dangerous move to create a permanent "third category" exemption to labor law will most hurt mostly older Black, Latinx, indigenous, immigrant and women workers  for generations to come – similar to the 1930s New Deal exclusions of domestic and farm labor. While Lyft and other companies are signaling an interest in a vaguely-defined relationship with bigger labor unions  via "sectoral bargaining," organizers have pointed to this as a trojan horse that would further undermine worker's voice, and usher in another era of labor suppression similar to company unions of the pre-New Deal era and the 1947 post-Taft Hartley "business unionism" era targeting labor power.
In initial assessments, the lack of restrictions on corporate proposition spending opened the door for massive spending on a deceptive Yes on 22 campaign. Expensive, constant TV and radio ads included groups like Mothers Against Drunk Driving and the manipulation of racial justice language and data (via spurious groups like the "Berkeley Research Group") - not to mention the gig companies' looming threat to leave California after courts enforced AB 5 this Fall. Some analysis points to the fact companies manipulated the app itself to make it appear that the workers picking up passengers or dropping off deliveries were supporting the corporate measure. Pro-22 ads had to be clicked through to access app functions – also questionable given the use of this private data for political purposes. (And in the middle of a pandemic-fueled food and restaurant delivery surge, Door Dash and others even offered stamped bags "Yes on 22.")
Yet undeniable is the importance of continued organizing by Rideshare Drivers United, Gig Workers Rising, Gig Workers Collective and others – who have gained ground creatively in a terrain where they face the deep challenges reaching workers invisibly scattered across cities and rural regions. These groups' effect on mobilizing the public in the Bay Area of California led to vote totals decisively against Prop 22 in tech stronghold Silicon Valley. Far from done fighting, gig worker-led organizations are now gearing up for battles across the US for the future of work that centers workers.
The Future Defined by Workers
Across the US this election, simplified mappings of red and blue fell apart in the face of investment in long-term deep, "ground game" organizing across labor and community organizations – from Black-women led groups like Georgia STAND-UP to Navajo and Latinx-youth led organizing by groups like LUCHA in Arizona. Often-invisible networks of non-funded grassroots organizing groups, including those tied to the Black Lives Matter uprisings, also mattered in building the energy and momentum among youth and marginalized voters. Cutting across these, too, was a massive in-person effort by labor unions like UNITE HERE (including numerous unemployed Black and brown hospitality workers) in key states where unions have ground presence.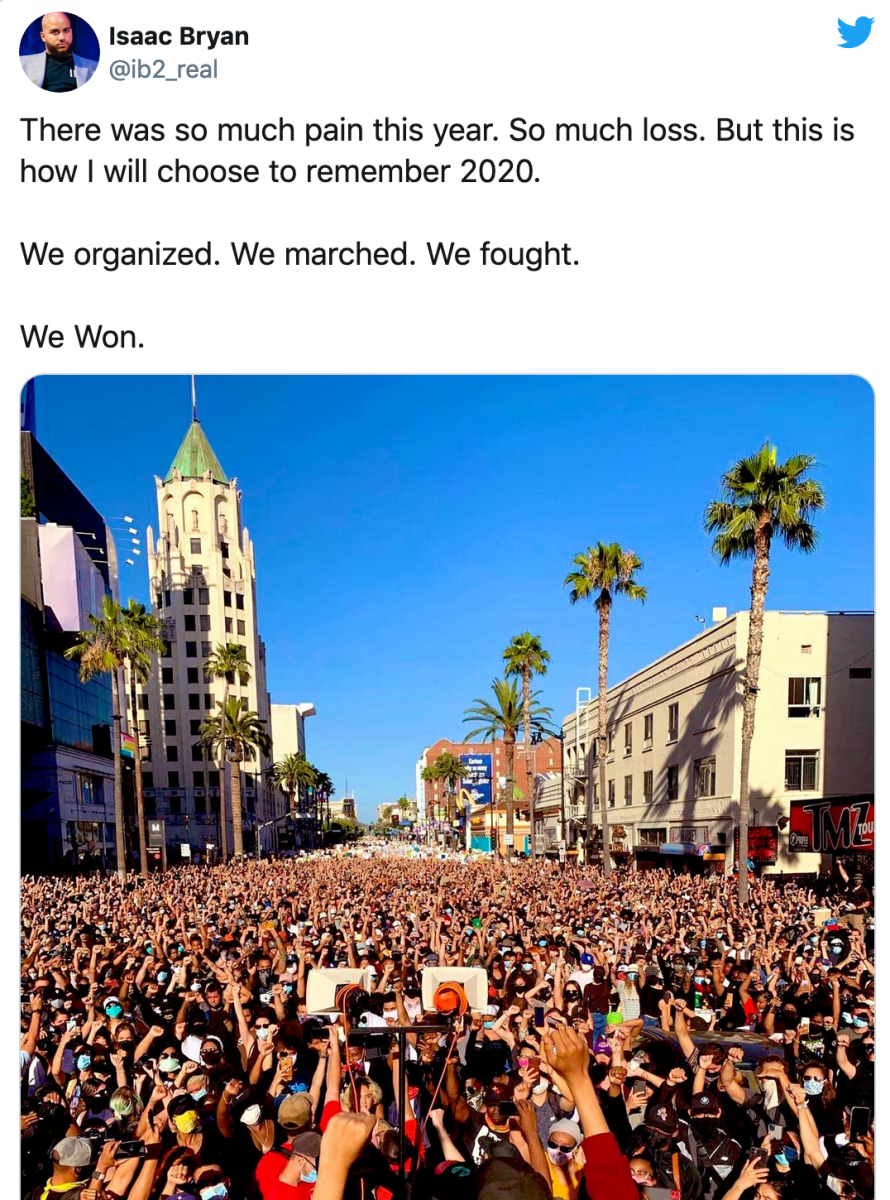 If there is a consistent theme among the ballot struggles discussed above, it is that worker-led organizing that cuts across community and labor organizations - and the willingness to step up actions, from teacher's to fast food strikes - can pay off big. Direct confrontation with corporate or legislative actors is an inevitable part of this process, as McDonalds' workers in Florida or teachers in Arizona can also share. And there are no campaigns that don't face losses and setbacks. Much of the above organizing faced (well-funded) roadblocks and lost policy fights at times but kept building and learning – much as the gig worker movement is now doing.
This lesson was also reinforced by powerful gains in local measures on other intersecting issues of racial and economic justice, such as the significant Measure J in Los Angeles County supported by Black Lives Matter-LA, Justice LA coalition, Youth Justice Coalition and a wider network created called Reimagine LA. (The tweet featured to the left is from Reimagine LA co-chair Isaac Bryan, Director of Public Policy at UCLA's Ralph J Bunche Center.) Measure  J- part of a local progressive sweep - now permanently sets aside 10% of the County budget for alternatives to incarceration, including job programs serving Black and brown communities. Cities as varied as Columbus, Ohio and Portland, Oregon passed police oversight measures, while Philadelphia banned stop-and-frisk decisively. At the state level, California abolition movements including Communities United for a Responsible Budget stopped algorithmic bail calculations, prison spending, and other attempts to scale back decarceration, while also advancing rights for parolee voting (legislation written by formerly-incarcerated residents). Needless to say, none of these shifts - like the multi-year battle to oust District Attorney Jackie Lacey in Los Angeles - were won overnight, or without tensions and confrontations.
Georgia STAND-UP Director Deborah Scott's call in a recent Vox interview speak volumes to the nature of long-term organizing that is transforming the political landscape – and tangibly shifting workers' lives: "Everything can't be online for us because there's a certain level of our population that does not respond there," Scott said, describing a tactics that included safe door-knocking, protests, and reaching those seeking direct services. Building strategy means "making sure people really listen to the wisdom that we have because we've lived it."