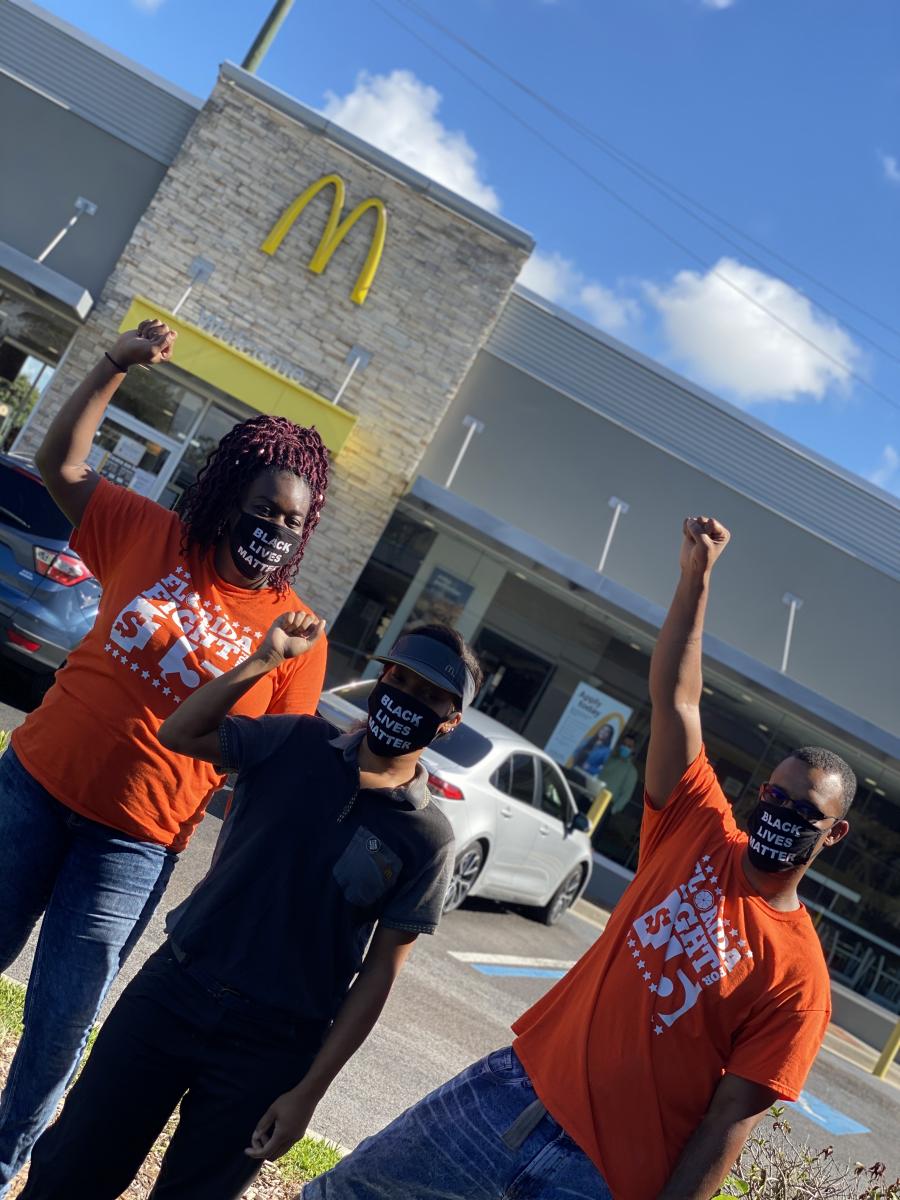 PIctured left: Gus and his co-workers in Lakeland, FL during the J20 Strike for Black Lives. Photo Credit: Fight for 15 Florida. 
Hundreds of workers walked out of work from coast to coast Monday, July 20th as part of coordinated Strike 4 Black Lives. Centering the Movement 4 Black Lives and 60-plus labor and community organizations, including the Service Employees International Union (SEIU), the strike (dubbed J20) included both full walkouts and 8 minute 46 second work stoppages commemorating the killing of George Floyd by police. Workers came from a range of "essential" industries, including mobile "gig", healthcare, fast food, education, childcare and janitorial. While there were unified national demands that included the right to unionize and real corporate action to protect Black workers and repair intergenerational harms, many groups also tied in the need for tailored local responses challenging racial and economic inequality, including in response to specific and systematic discrimination incidents.
In Florida, McDonald's workers filed a federal civil rights lawsuit in the days prior charging that the company subjected them to a "racially hostile work environment" and retaliation for speaking up. One of the workers named in the suit, Monice, is employed in a Lakeland McDonald's, east of Tampa. She described in a video: "Back in March, I was racially discriminated against: she... told me that all Black people want is a handout. All we do is smoke weed all day and be violent, angry and upset if we don't get what we want." Monica clearly and calmly explained her situation, only to be then told "...but you know I'm right." The company had been also sued in Florida in April for systemic sexual harassment, with plaintiffs from more than 100 of the locations in the state.
FJE had the opportunity to interview Augusta (who goes by Gus), another Lakeland McDonald's worker and a leader of the SEIU-backed Fight for 15 Florida who took the streets on the 20th. Alongside challenging discrimination via the lawsuit, Gus and workers are looking to pass Florida's Amendment 2, the $15 Minimum Wage Initiative, which is on the ballot as an initiated constitutional amendment this November.  Amendment 2 would increase the state's minimum wage from $8.56 in 2020 to $15.00 by 2026. Gus shared a bit about his experiences in the central Florida McDonald's where he works and what it means to be a Black worker in the US today.
What brought you to take part in the Strike for Black Lives this week?
Honestly, I want to end racism and workplace hostility and discrimination. I see the connections to racism in everyday action. In today's society, racism looks like how you go about doing your everyday routine and treat people along the way.
For example, in my job, racial discrimination looks like when you are scheduled outside of your availability, and you go talk to your General Manager. She acts like she doesn't have your availability at hand, and tells you to re-do your availability sheet. You do that, and she snatches the paper out of your hand, and treats you with disrespect.
Florida's minimum wage is $8.46. I get paid $9.25. After this pandemic and really not being able to get the hours I could usually make or need — that makes life hard. You have to choose: what bill am I going to pay? I have two children I'm responsible for, and I want to give them my all. It hurts to not be able to do that. I feel like if I could make more, I could make things better for them. Maybe not great, but at least better.
What was the J20 strike like for you?
The day of the strike, we rode around the building and made our presence known: by stepping out there, out of work, we were saying, enough is enough. Do us right.
A good amount of people that showed up to support the strike and showed love. Just to be able to see those people meant a lot. I met was a lot of people willing to help — stopping to say, 'Hey man, you need something to eat? Don't hesitate to call me.' I'm not saying I would take them up on it — but just them offering, and they don't even know me? That's what America should be about; that's what we can be about as a country. They could have been somewhere else — but then they came to support strangers as part of a movement. They see the racism and discrimination every day on social media, on the news, they could just ignore us — so it was truly amazing to have so many people out.
Say it's one year from now. What does success look like? How have things changed at work?
The workplace would be friendly: it would be an open from the top to the bottom. If I'm the CEO I wouldn't feel like my position is too big to come talk to the crew trainer or the crew members. I would want there to be an equal playing ground in the workplace. General managers wouldn't be abusing their positions because they would know someone above them would actually be holding them accountable.
What was the response from your employers at McDonald's?
For some of my coworkers that went back the next day they have been really experiencing a hard time. In America, we get punished these days for giving our opinion, for using our freedom of speech.  You can't let it bring you down though. You have to keep saying: this isn't right. This was my first big action, but I'lll be doing much more. Having so many organizations having your back and saying, 'You know what, we're not going to stand for this. This story needs to be told' — that's an amazing feeling to have. Just being a part of [a movement] makes it all worth it.
Where do you see the connections between what you experience in your workplace and the situation with policing of Black lives?
Just like you can't be a general manager and abuse your crew members, you can't have someone that is there to protect and serve you end up hurting you, or end up putting you in jail for trumped up charges. The police just feel like they can just put you in jail because they have that authority, that privilege. Just like a general manager, law enforcement needs to be held to a better standard. They are the people we have to walk our communities. They are supposed to be here to help us and not just come to the situation ready to hurt us. They should not be able to hurt, harm and kill. What it comes down to though is all these people in power — they are abusing that power. That abuse goes on at a larger scale in society, but it starts in everyday life.
How do you think foundations and individuals can support?
Action is a big thing for me: you can't just say you care. You have to show it. You have to really prove when the situation arises that you are here to really get us to better days. To get there is going to take a lot of work. We're all going to keep having to put it in. It should have all changed day George Floyd died — yet America is still running on retaliation, discrimination and hatred.
Enough is enough. We already have a global pandemic. To continue to live as a Black person in America you not only a face a pandemic, you have society attacking you as well. We are going to have to stand together because at the end of the day, we all are going to need each other.  We need to do better in life and focus on what is right. 
And when the change comes, our workplace will be a much better organization to the public and to each other. Keeping [the strikes and actions] going is raising some eyebrows and gets people to understand, things need to change, today.
You can follow Gus and his fellow workers' continued campaign for the Fight for 15 nationally and locally  And read more about how to support the broader Movement for Black Lives here.
FJE's Strike Watch is a regular blog and media series dedicated to providing insight on the ways in which grassroots movements build worker power through direct action. Our ultimate goal: inform philanthropic action to support worker-led power building and organizing and help bridge conversations among funders, community and research partners. We are grateful and acknowledge the many journalists and organizations that produce the content we link to regularly, and to all our participants in first-hand interviews. Questions on the content or ideas for future installments? Reach out to robert@nfg.org.