If there is an image that encapsulates the continued expansion of worker-led direct action in the last few weeks, it is Angela Davis on Juneteenth. With her fist raised high and face mask tight, Dr. Davis stood strong out of a roof of a car moving through a massive strike linking dockworkers and community to shutter the Port of Oakland for 8-plus hours. Led by the International Longshore and Warehouse Union (ILWU) shipping and transport workers, 29 ports were shut down as tens of thousands came together, and drew connections by featuring speakers such as fired Amazon warehouse worker Chris Smalls between the racial violence of police and that of powerful corporations.
Payday Report tracked more than 500 strikes from the first protest for George Floyd at the end of May to a nationwide day of action on Juneteenth. In Minneapolis in the days after the murder of George Floyd, workers showed solidarity in ways ranging from unionized bus drivers refusing to transport police to direct action by teachers to remove police from schools. Journalists also have confronted racism in their institutions, such as the 300-plus sickout at the New York Times to challenge Arkansas Tom Cotton's op-ed calling for military action against protestors. Workers, small businesses and community collaborated on a Washington State-wide day of action where dozens of businesses shut down and employees skipped work to support of Black Lives Matter and confront white supremacy. 
Unions are also taking strong stances on the efforts to divest and defund from police (see our NFG resource for funders here) and invest in real community need and safety, including a wide ranging set of locals in the Bay Area supporting this call directly. Locals like UNITE HERE Local 11 in Los Angeles have confronted recent police killings such as the murder of 18-year old Andres Guardado (whose father is a union member) by the LA Sherriff Department (LASD) in Compton. The local joined street protests and signing on to BLM and abolitionist-led calls for a #PeoplesBudgetLA and a Care First budget defunding the LASD.
Using one's workplace power to support anti-racism has also morphed among professional class workers "at home." Dozens of scientific institutions, from journals to university departments, also #ShutDownSTEM to force reflection on entrenched racism in the US and support for Black lives.  #Sharethemic days where white women-identified influencers ceded space to Black women anti-racist leaders like #metoo founder Tarana Burke also offered new ways to consider not only walking out, but handing over resources, space and power.
Like the ongoing strikes responding to COVID-19, workers are exposing the hypocrisy of the endless barrage of corporate statements professing #BLM while taking actions that are quite literally killing their Black and brown workers. Under the cover of slick marketing, trillion-dollar companies like Amazon and Whole Foods are cutting back low-wage worker hazard pay and other protections (won by protests), even as COVID-19 cases spike in their worksites, and even seeing BLM masks banned on the job.
Global Essential Organizing in the Age of COVID-19
As COVID-19 cases (and unemployment claims) continue their ascent in the US, and other regions of the world see dangerous resurgences, mostly Black-, Latinx- and API- (including and especially migrant)-led worker organizing for basic protections has not let up either. The latest waves of strikes organized by Familias Unidas por la Justicia (FUJ) among dozens of apple picking and packing sites in Washington state's Yakima Valley saw a significant victory with a signed collective agreement for safety and hazard pay among dozens of different apple picking workers earlier this month.
Mosty-migrant meatpacking workers globally – from Germany's hinterlands to Hyrum, Utah – continue to demonstrate n the face of outbreaks in plants. Unionized nurses represented by National Nurses United and different SEIU affiliates are striking nationwide against the large US corporate hospital chain HCA Healthcare for still failing to provide Personal Protective Equipment (while cutting staff) starting Friday, June 26. Disney workers, meanwhile, attempt to stave off a disaster at their multi-billion dollar company seeks to re-open its theme parks in July.
Months of essential worker strikes are becoming entwined in an even broader sea of actions for Black lives and calling, in many cases, for police and prison abolition. Angela Davis reflected in an interview on the same day as the Juneteenth strike: "Activists who are truly committed to changing the world should recognize that the work that we often do that receives no public recognition can eventually matter." The power reflected in ongoing strikes has been built at the grassroots through base building and other work for numerous years. Dr. Davis' words are in many ways a call to action for philanthropy: how will funders fully recognize and support the immediate and long-term building necessary for worker-led organizing and power? And as major institutions like universities look inward, will foundations reflect on their own perpetuation of racism and corporate power - from external investments to internal practices?
FJE's Strike Watch is a regular blog and media series dedicated to providing insight on the ways in which grassroots movements build worker power through direct action. Our ultimate goal: inform philanthropic action to support worker-led power building and organizing and help bridge conversations among funders, community and research partners. We are grateful and acknowledge the many journalists and organizations that produce the content we link to regularly, and to all our participants in first-hand interviews. Questions on the content or ideas for future content? Reach out to robert@nfg.org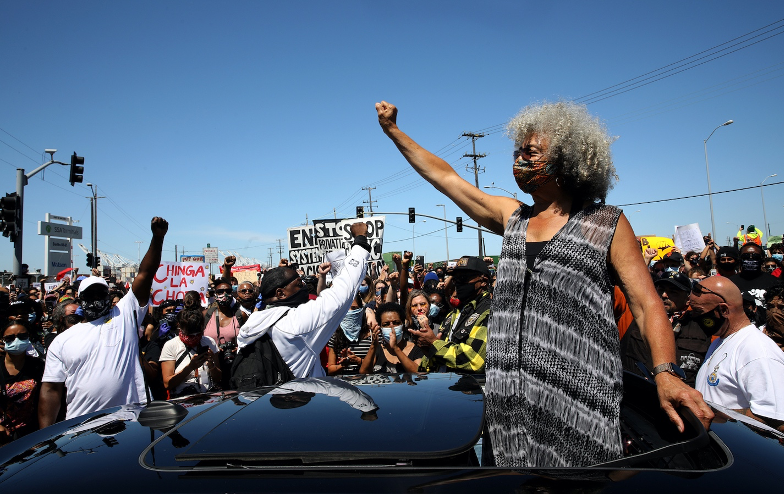 Photo Credit: Yalonda M. James / The San Francisco Chronicle via Getty Images