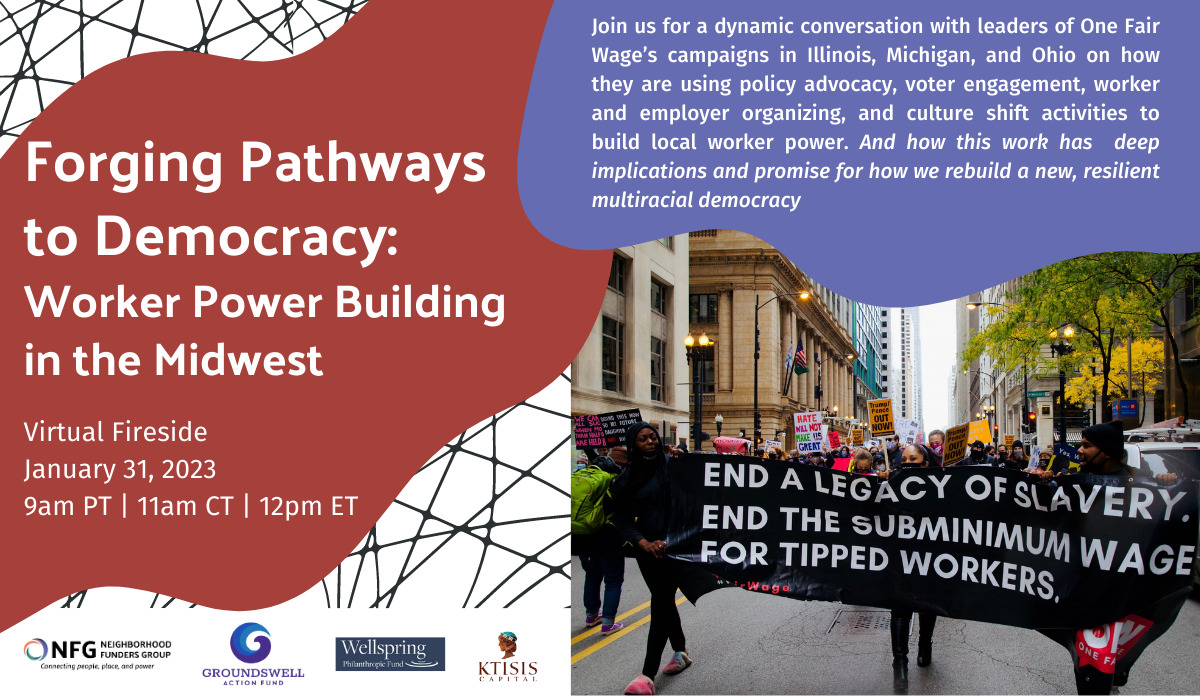 Please join us for Forging Pathways to Democracy: Worker Power Building in the Midwest on Tuesday, January 31, 2023 at 9am PT | 10am MT | 11am CT | 12pm ET! 
In a time that can feel politically harrowing, we are in a historically hopeful and inspiring time as workers are striking and quiting their jobs with the demand of higher wages, better working conditions, sick time, and more benefits. Throughout the pandemic, workers in hospitality, education, restaurants, rail and transit, retail, and warehousing have been exercising their power through strikes, unionization drives, and  deep organizing, building a groundswell of support for new public policy, workers' rights, and economic justice - and they are winning.
These worker driven campaigns are proving that the path to economic security and greater democracy comes from building power and solidarity with other workers. Some of the biggest wins come from the Midwest, and in Michigan, Ohio, and Illinois in particular, as workers organizing with One Fair Wage are refusing subminimum wages and demanding economic and social protections.
We are honored to host a dynamic conversation with leaders of One Fair Wage's campaigns in these states about how they are using policy advocacy, voter engagement, worker and employer organizing, and culture shift activities to build local worker power. Their efforts have successfully changed legislation and leveraged national policies and funding, including:
A

Michigan Court of Claims

judge ruled that the state must implement a 2018 ballot measure to raise tipped wages to $12/hour with tips on top including continued hourly rate increases through 2024.

Illinois workers

are gathering support for Bill HB5139 which will gradually eliminate subminimum wage for tipped workers.

Ohio workers

are gathering signatures for a 2024 ballot measure which would increase minimum wages for all workers to $15/hour by 2027, including tipped workers, workers with disabilities, and youth, and workers in Michigan have already collected 600,000 signatures to do the same in 2024; in each state, these ballot measures would give 1 million workers a raise -and thus also help to mobilize 1 million unlikely low-wage worker voters to vote.
Within a region where workers are often thought to be politically divided, One Fair Wage is uniting a groundswell of workers building power and solidarity together in ways that have deep implications and promise for how we rebuild a new, resilient multiracial democracy. As such, this conversation will address the ways that worker power building is embedded in an ecosystem with narrative change work, criminal legal system reform/abolition, racial justice, gender justice, public health, and more.
This event includes an interactive Fireside with organizers followed by a facilitated funders-only session to support processing, community building, and strategy development to think collectively how to support the Midwest ecosystem of worker power building.
Speaker information to be shared soon.
This event is hosted by Neighborhood Funders Group's Midwest Organizing Infrastructure Funders and Funders for a Just Economy, Groundswell Action Fund, Ktisis Capital,  and Wellspring Philanthropic Fund.