Rural Disability Justice - The Role of Mutual Aid, Power Building, and Connecting Across Community
We are delighted to invite you to join us September 12th at 10am PT for this webinar hosted by NFG's Integrated Rural Strategies Group, in collaboration with Ceres Trust and Borealis Philanthropy's Disability Inclusion Fund. This webinar promises to shed light to the critically important and often overlooked topic of Rural Disability Justice in a way that will appeal to funders working on health, arts, community organizing, worker justice, and place-based grantmaking.
Recognizing the importance of Disability Justice in rural settings is crucial due to the unique challenges and disparities faced by people with disabilities in these communities. Rural areas often experience a lack of resources, limited access to healthcare and support services, and greater isolation, which compounds the impact of ableism and systemic barriers. This webinar's speakers will also discuss ways in which rural communities (including immigrants and farmworkers in California's San Joaquin Valley) experience and respond to intersectional injustices. By prioritizing Disability Justice in rural settings, funders can help break down the isolation and invisibility experienced by people with disabilities. They can foster collaborations between Disability Justice organizations, health providers, community leaders, and other key partners to create inclusive communities and integrated systems of support.
During this hour long conversation, we will delve into key questions and explore strategies that support sustainable, grassroots community-led initiatives that promote Disability Justice such as:
What roles can 

storytelling, narrative

, and

arts-based

projects play in advancing rural Disability Justice?

How are rural communities uniquely contributing to the narratives and strategies that inform Disability Justice policy, including

humanizing disability

and using a deeply

place-based approach

to their organizing?

In what ways is Disability Justice distinct

from a more clinical, intervention approach to advancing disability rights?


We encourage you to extend this invitation to your funder colleagues and partners who share a passion for transformative social change. Their participation will enrich the dialogue and contribute to the collective efforts in fostering inclusion and justice for people with disabilities across the country.
Rural Disability Justice: The role of mutual aid, power building and connection across community
Tuesday September 12th, 2023
10am PT | 11am MT | 12pm CT | 1pm ET
Speakers
Nikki Brown-Booker (she/her), Program Officer, Disability Inclusion Fund
Sarah Marquez (she/her) Disability Justice Community Partner & Facilitator
Alondra Santiago (she/her), Associate Researcher, California Institute for Rural Studies
Dr. Dvera Saxton (she/her/they), Associate Professor and Chair, Fresno State
Cristel Jensen, California Institute for Rural Studies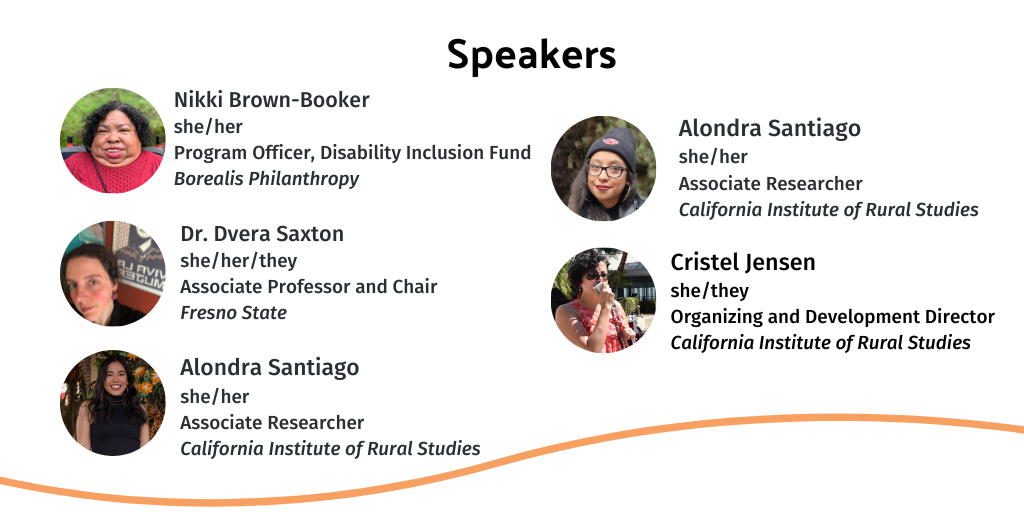 For this conversation, we will focus on remarkable community-based initiatives in the San Joaquin Valley of California, however the strategies and learnings shared by these grassroots community leaders extend far beyond geographic boundaries. They touch upon the intersections of Disability Justice, health, farmworker justice, and climate/environment, offering valuable insights applicable to diverse contexts.
Disability is a multifaceted experience that extends far beyond a mere medical condition or disease. It encompasses the complex interplay between individuals and the social systems they navigate. Recognizing this, it becomes imperative for funders to shift their focus towards supporting comprehensive systems change.
At its core, disability is about the ability to survive and thrive within a social framework that often perpetuates barriers and exclusion. It is not solely about medical interventions or individual impairments but also about dismantling societal structures that hinder full participation and equal opportunities for individuals with disabilities.
In rural settings, where healthcare infrastructure is often scarce and specialized services are limited, the medical model of disability can be particularly inadequate in addressing the holistic needs of disabled community members. Medical interventions alone fail to address the broader social, economic, and environmental factors that shape the experiences of individuals with disabilities in rural communities. Medical models themselves may also perpetuate harm by reducing people with disabilities to problems that need fixing.
By shifting the focus to a more comprehensive understanding of Disability Justice, funders can help bridge the gaps in support and services in rural areas. This involves supporting initiatives that recognize the unique strengths and strategies operating within rural disabled communities, while also addressing the systemic barriers they face. In rural settings, people with disabilities often rely heavily on their community networks and mutual aid to navigate their daily lives. Supporting Disability Justice in rural areas means recognizing and strengthening these existing networks of support. It involves empowering local organizations, community leaders, and people with disabilities themselves to shape the initiatives and programs that directly impact their lives.
Funders can play a vital role in enabling rural communities to develop their own solutions and strategies for addressing Disability Justice. This may include providing financial resources for grassroots organizing, capacity building, and leadership development initiatives. By investing in these efforts, funders can help build sustainable infrastructure and strengthen the collective power of people with disabilities and their communities.
By prioritizing Disability Justice in rural settings, funders can help break down the isolation and invisibility experienced by disabled individuals. They can foster collaborations between Disability Justice organizations, health providers, community leaders, and other stakeholders to create integrated and inclusive systems of support.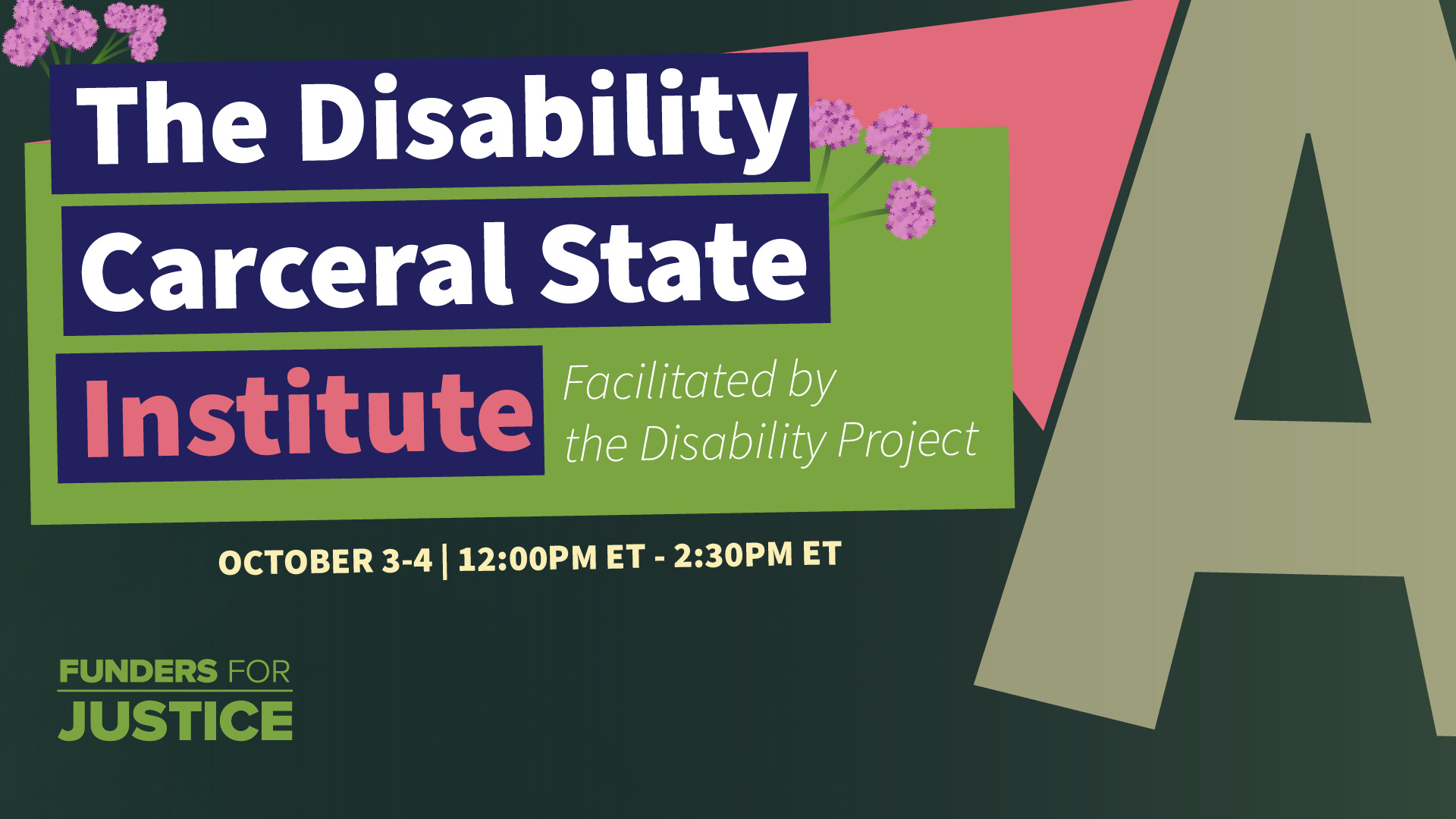 Our cosponsors, Funders For Justice are hosting their Disability Carceral State Institute. The Institute is a 2-part series that delves into Ableism's role as a central force in perpetuating various supremacy systems, such as anti-Black racism, misogyny, poverty discrimination, and transphobia, fueling mass incarceration, state control, and violence, while also examining the concept of the "Disability Carceral State" and the need for DJ-aligned philanthropic support in advancing Prison Industrial Complex Abolition. This series will take place on October 3-4, 2023 from 12:30-2:00pm ET and is specifically designed for staff, board members, grants panelists, and donors of grant-making institutions, donor networks, and funder affinity groups. The cost to attend is $300 per participant and sliding scale registration is available.
Sep 12, 2023 - Sep 12, 2023