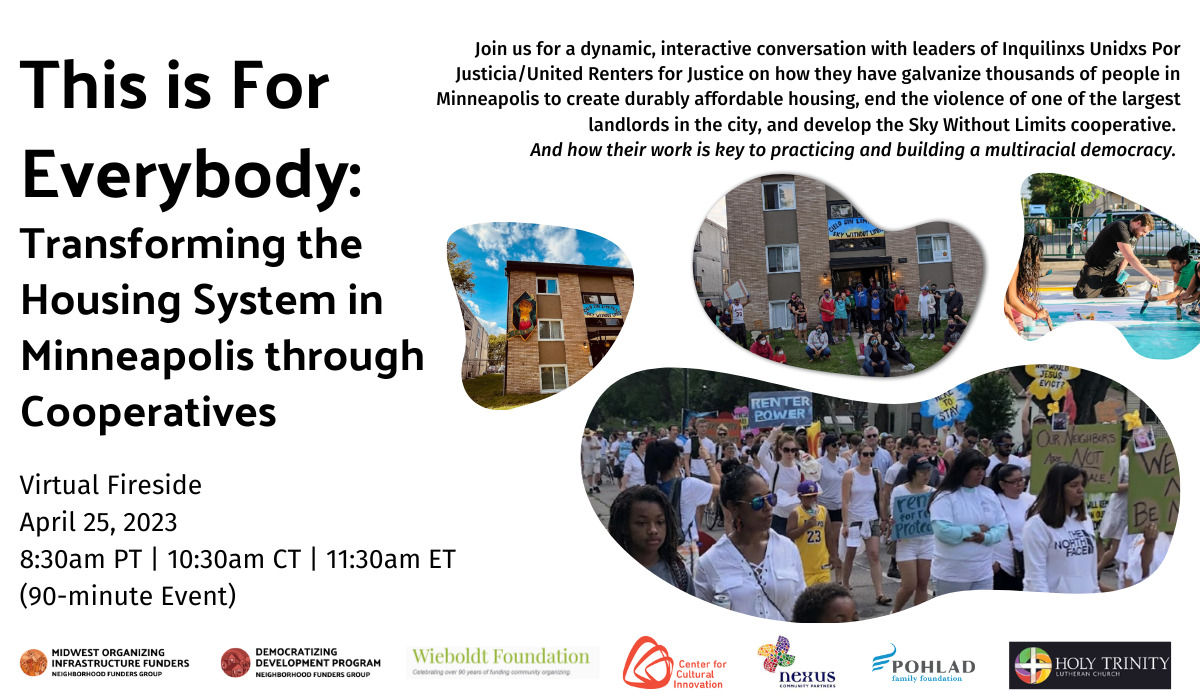 Decades of redlining, racial covenants, racist banking practices, elite-oriented development, and other racist housing policies has resulted in Minneapolis facing one of the worst housing crises in the country. Yet, community members are winning and forging a future where housing is untethered from white supremacy. Inquilinxs Unidxs Por Justicia (United Renters for Justice) (IX)'s work offers clear answers to how to confront and stop powerful opponents and build community-based housing rooted in autonomy, justice, and dignity.
Join NFG's Midwest Organizing Infrastructure Funders and Democratizing Development Program in a 90-minute Fireside Session with IX. We'll learn about IX's four-year campaign to galvanize thousands of people in Minneapolis to create durably affordable housing, end the violence of one of the largest landlords in the city, and devop the Sky Without Limits cooperative.
Our conversation will address:
Why tenant power building and cooperatives are key to fighting segregation, economic oppression, and rebuilding a thriving multiracial democracy

How today's tenant and cooperative movements are rooted in a deep global history of cooperativism led by BIPOC communities 

The infrastructure and organizing needed to not only mobilize tenants and allies, but to also build a fair and democratic culture in community-based housing 

How philanthropy can support bold, scalable, and innovative campaigns like IX's that build local power and form a new vision for how land can be stewarded by BIPOC communities instead of corporate forces that cater to the most privileged and elite
This event will include an interactive, dynamic conversations with leaders of IX followed by a facilitated funder-only session for processing and co-strategy.
This event is co-hosted by NFG's Midwest Organizing Infrastructure Funders and Democratizing Development Program, Center for Cultural Innovation, Holy Trinity Lutheran Church, Pohlad Family Foundation, Nexus Community Partners, and Wieboldt Foundation.
Questions? Email Amanda Hwu (Sr. Program Manager) at amanda@nfg.org.