With all we are holding, I hope you are also finding sweetness in this final stretch of our Midwest summer.

Each day, I have the honor of working with movement workers and funders who teach me what it means to be courageous enough to build the world we want. Individual brave acts are powerful. So is a community building courage together to collectively confront systems of oppression and carve pathways to justice and liberation for all.

The call to be more courageous makes me dream about what might be possible if courage becomes a communal practice in philanthropy? Might we dream of ways to redistribute resources to movements with abundance, care, and trust? Might we find, conspire with, and sustain each other?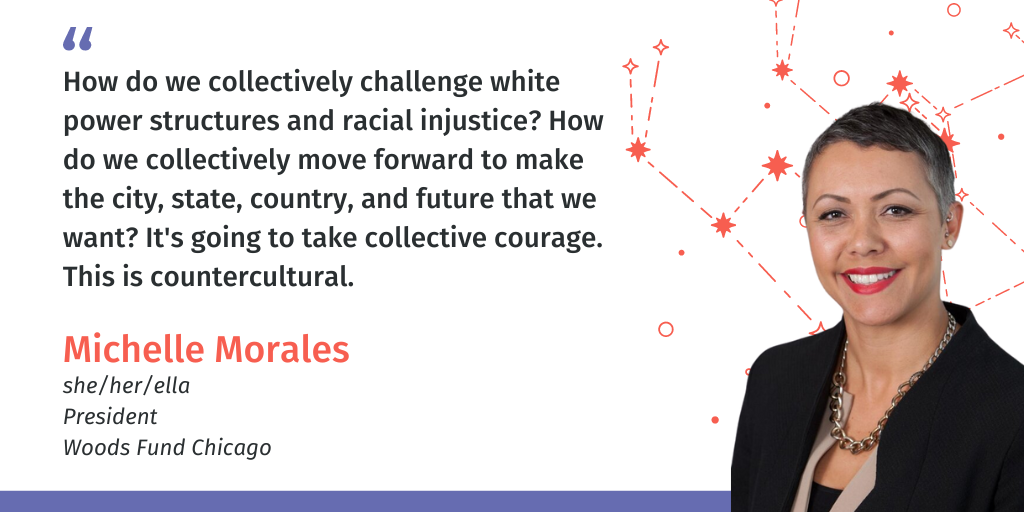 To begin to answer these questions, on July 26th, the Midwest Organizing Infrastructure Funders convened over 30 Chicago funders for Moving Resources, Shifting Power: A Skill-Sharing Session for Chicago Funders Supporting Grassroots Organizing. Funders shared their stories, strategies, and questions about how to move resources to power building efforts in the city and surrounding communities. In our conversations, we learned about how Grand Victoria Foundation is building their collective courage to shift power and resources to movements. Michelle Morales, President of Woods Fund Chicago, also reflected on how collectively challenging white power structures and racial injustice is going to take collective courage in her closing statements (see the quote above).
I hope that the conversation in Chicago last month and the resources and events below motivate you to dream with me about courageously working towards a cultural shift in philanthropy.
Thank you for being in community with Midwest Organizing Infrastructure Funders! I am available any time to connect with you to discuss how we can deepen our collaboration and partnership.