Dear friend,
What a joy to write to you from my new position as the Senior Director of the Amplify Fund at NFG!
For nearly 18 years (through my roles with the Arcus Foundation, Ms. Foundation for Women, and Grantmakers for Southern Progress) I've been on the receiving end of these NFG newsletters. I'm thrilled that as of October 3rd, I get to be a part of NFG in a new way, and continue working towards our shared goal of leveraging philanthropic resources so that Black, Indigenous, other communities of color, and low-income communities can shift power and make change for the betterment of us all.
Unlike other affinity groups and philanthropic service organizations, I've always found NFG to be a true political home – a place to learn, to take risks, to ask colleagues for support, to be in community, and to practice being the best funder for our movements. I'm especially happy to do this work alongside Melody Baker, Renata Peralta, Nicole Washington and Cassandra Stafford (who also joined Amplify Fund in October). It's a dream come true to be a part of a majority Black, multi-racial, feminist, and intergenerational team of women working to lift up the leadership of folks who have been historically pushed to the margins. We are deeply committed to centering the experiences of women of color, while not burdening them, and we invite funders to join us in this goal.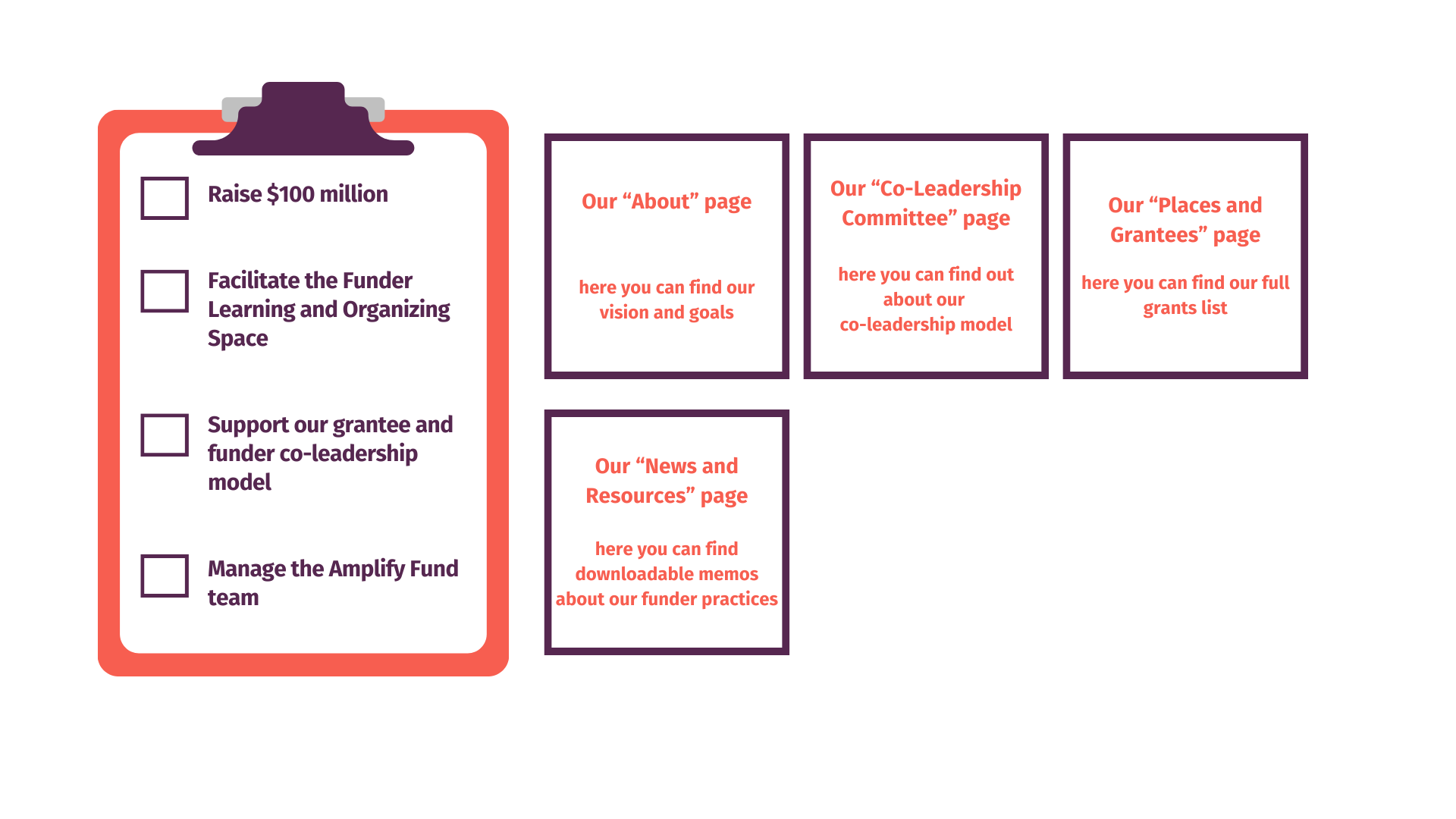 While I have a lot of work to do in these next few years (see my checklist above for quick reference), I'm grateful that it's connected to my lifelong commitment of moving money to individuals and groups who have historically had less access. Plus, I get to do this work together with so many of you, NFG members.
So, if you want to partner with Amplify in this work, please email me to set up a virtual tea date. And, if you just want to learn more about the work of this incredible fund and our grantee network, I encourage you to check out the resources above today.
In solidarity,
Roz Lee
she/her
Senior Director, Amplify Fund
"This last year and a half of successful transition in the leadership of Amplify Fund would not have been possible without the entire Amplify team stepping up and forward to lead. In particular, I am so thankful to Melody Baker for agreeing to serve as Interim Senior Director during this time, and thrilled she will now move to a position she is passionate about and that will make excellent use of her skills - working more closely with grantees as Amplify Fund's Director of Programs and Strategy. And, I could not be more enthusiastic about welcoming Amplify's new Senior Director, Roz Lee, to the NFG team. NFG is so lucky to have Roz's deep expertise in forwarding racial, gender and LGBTQ+ justice in philanthropy, and I believe her leadership will mean we can better live out our theory of change. 
We are strong in this time of transition thanks to our capable and growing staff, and ongoing partnership with our members. It is because of that strength that even as we focus on our leadership as an organization, we can continue to adeptly organize philanthropy in service of our movements."
- Amy Morris
she/her
Interim President
_____
In addition to Roz, the NFG team is excited to welcome Cassandra Stafford (she/her) who also joined our organization in early October!Cassandra Stafford is the Program Officer for the Amplify Fund, where she oversees grantmaking across Amplify's eight places, and holds relationships with grantees and local funders in South Carolina, Missouri, and Tennessee. In addition to her grantmaking work, she supports grantee capacity-building and learning through initiatives like Amplification sessions.
Before joining NFG, Cassandra served as a Program Manager with the Youth Engagement Fund, where she championed youth organizing and civic engagement throughout the U.S. South and Southwest.