"You all fueled my fire. This cohort centered me to be a leader, take risks and not to follow. I am grateful for it, and to you all. Deeply grateful."
Philanthropy Forward is a growing community of changemakers. Participation in Philanthropy Forward has provided Fellows with:
Less feelings of isolated in their role

Strengthening of their racial and gender justice and community power building analysis

Deeper skills for sharing power and acting as liberated gatekeepers individually and institutionally 

Opportunities to unleash more money to racial and gender justice movements building community power - individually and with peer partnership

A vibrant, influential network of self-organizing Fellows from all cohorts that exists beyond the fellowship
Philanthropy Forward is a timely and necessary offering to catalyze funders who are working together to center racial and gender justice and community power building to disrupt and transform the future of philanthropy. For more information, please contact Manisha Vaze at manisha@nfg.org.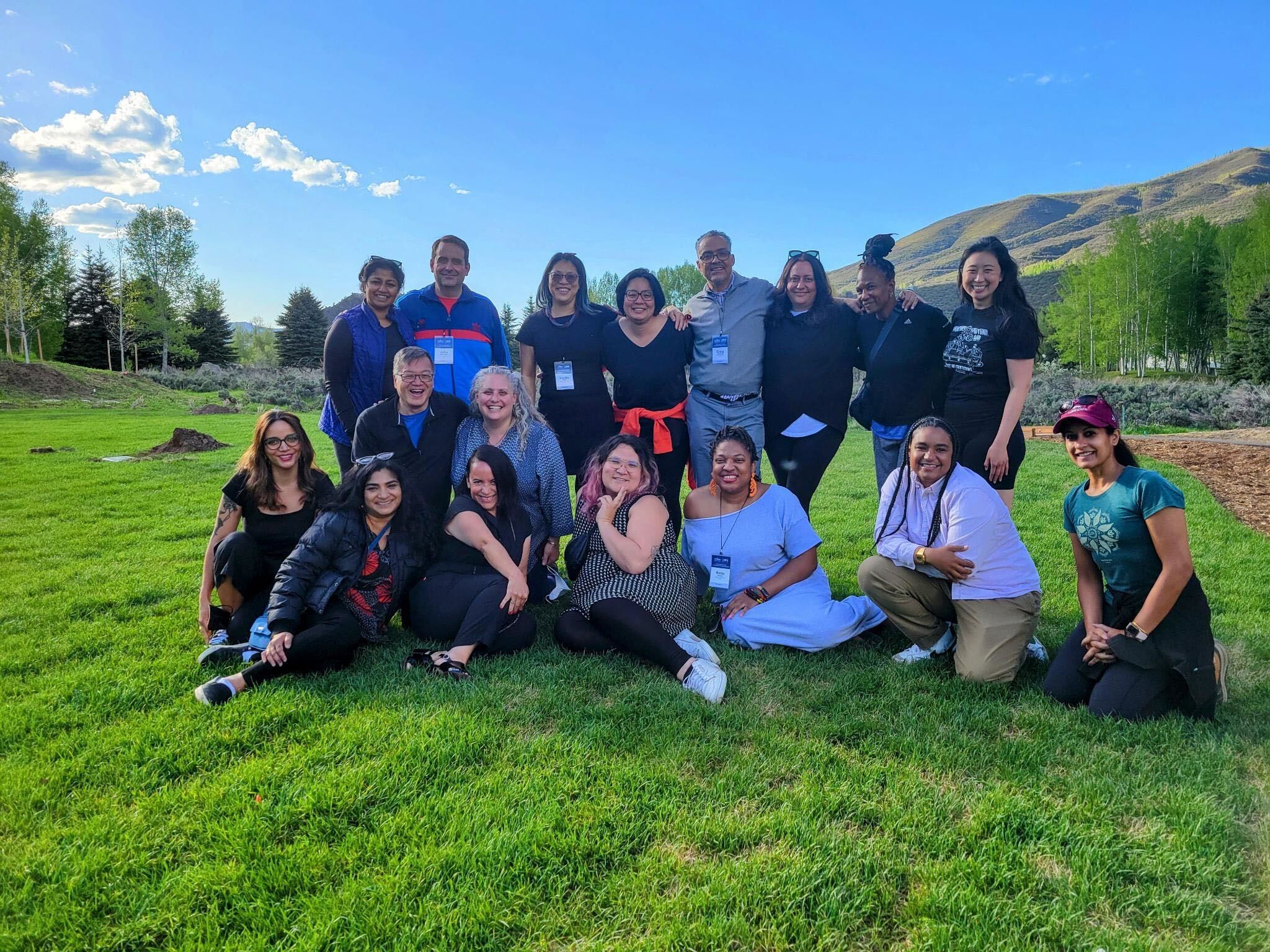 "I wanted to meet and get to know more folks who had my role and who have a commitment to organizing and have a commitment to power building and an analysis around racial justice. Before [Philanthropy Forward], I didn't really have that. A lot of the folks that I was closer to in philanthropy were not executive level folks. This process has helped me find my folks. [My] hope for relationship building has come through and been even more meaningful than I could have expected."
Cohort 4 began in September 2022 with 15 Fellows from Deaconess Foundation, Voqal, Women's Foundation of the South, Kolibri Foundation, The Meyer Foundation, Crossroads Fund, Wieboldt Foundation, Pride Foundation, Grantmakers Concerned with Immigrants and Refugees, Woods Fund Chicago, Health Forward Foundation, Nexus Community Partners, Kolibri Foundation, Satterberg Foundation, and Grand Victoria Foundation. This cohort is composed of 87% BIPOC fellows and 13% white fellows.
Cohort 3 began in May 2021 with 16 Fellows from Collective Future Fund, Borealis Philanthropy, Third Wave Fund, The Christensen Fund, Victoria Foundation, North Star Fund, T. Rowe Price Foundation, Hyams Foundation, Butler Family Fund, Just Beginnings Collaborative, Robert Sterling Clark Foundation, Solidaire Network & Solidaire Action Fund, Jessie Smith Noyes Foundation, Geraldine R. Dodge Foundation, and Consumer Health Foundation. This cohort is composed of 87% BIPOC fellows and 13% white fellows.
Cohort 2 began in September 2019 and included participants from Akonadi Foundation, Amalgamated Foundation, Arca Foundation, HIVE at Spring Point, Jacobs Center for Neighborhood Innovation, Meyer Memorial Trust, Ms. Foundation for Women, Perrin Family Foundation, Peter Kiewit Foundation, Pillars Fund, Seventh Generation Fund for Indigenous Peoples, Surdna Foundation, The Fund for New Jersey, The Simmons Foundation, Washington Area Women's Foundation, Winthrop Rockefeller Foundation, and Youth Engagement Fund. This cohort was composed of 65% BIPOC fellows and 35% white fellows.
The inaugural Philanthropy Forward cohort kicked off in October 2018 with CEOs participating from the following foundations: General Service Foundation, Nathan Cummings Foundation, Solidago Foundation, The Colorado Trust, Victoria Foundation, The Chorus Foundation, Meyer Foundation, Mary Reynolds Babcock Foundation, Unitarian Universalist Veatch Program at Shelter Rock, New York Foundation, Scherman Foundation, Hyams Foundation, NoVo Foundation, and Deaconess Foundation. This first cohort was composed of 38% Black, Indigenous, and people of color CEOs and 62% white CEOs.
Cohort 1 concluded in June 2019 and provided opportunities for the Fellows to build deep relationships across foundations, learn what their peers are grappling with, and work together on the sector's most challenging issues.